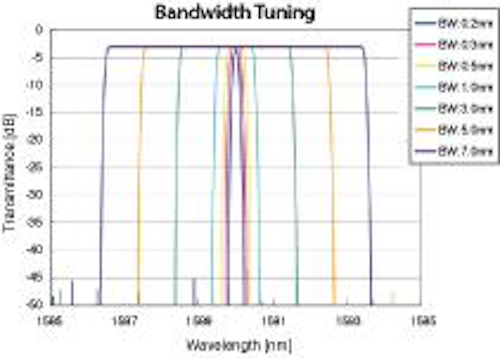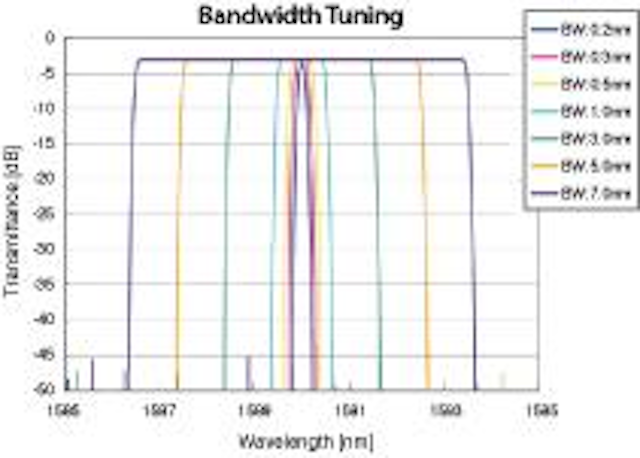 JULY 16, 2009 -- Santec (search Lightwave for Santec) has released a manual version of its bandwidth-adjustable tunable filter. This fiber-optic instrument incorporates a transmission filter whose wavelength and bandwidth can be adjusted independently.
The filter has a flat-top shaped profile with excellent dispersion characteristics, Santec asserts. The flexibility of the filter ensures suitability for a wide range of applications, according to the manufacturer. However, it is particularly well suited for filtering noise from 40-Gbps and higher data rate transmission signals, Santec says.
The tuning range of the filter is from 1530 nm to 1610nm. The bandwidth is adjustable from 0.2 nm to 10 nm. Custom filters such as notch filters and high or low pass filters are also available. Models with different wavelength ranges will also be developed in the future, Santec adds.
Applications for the device include:



40-Gbps and higher data rate transmission test

DWDM channel selection

ASE noise filtering

pulse shaping

next-generation bundle wavelength OXC

Visit
Santec
For more fiber optic testing news and resources, visit the Test & Measurement Resource Center