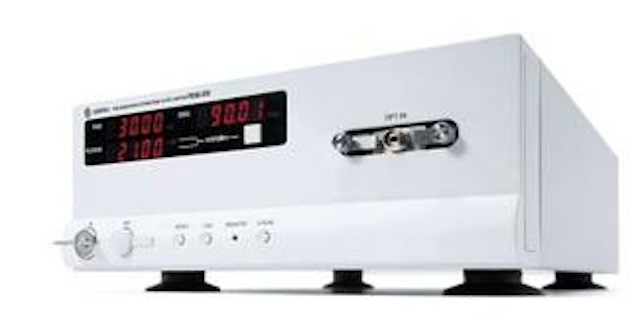 JULY 16, 2009 -- Santec (search Lightwave for Santec) has announced the release of a new polarization extinction ratio (PER) meter, the PEM-330. The instrument builds on Santec's PEM-320 model with an expanded wavelength range to cover the full wavelength band used in telecom applications from 1260 nm to 1630 nm.
The PEM-330 provides a simultaneous display of PER, optical power, and polarization angle. These are the three critical parameters required when aligning polarization maintaining fiber to optical devices, Santec asserts. The instrument is thus suitable for component manufacture as well as evaluation, according to the company. The device is designed to provide very high accuracy and a wide dynamic range. It also has communication ports to allow fully automatic fiber alignment and measurement.
It also features 40-dB dynamic range for PER measurement GPIB as well as RS-232C communication and analogue data output ports.
In addition to use in alignment of the polarization axis of fiber for optical devices, it can also be used for connectorized PMF patch cord evaluation and PMF pigtailed laser diode evaluation.
Visit Santec
For more fiber optic testing news and resources, visit the Test & Measurement Resource Center