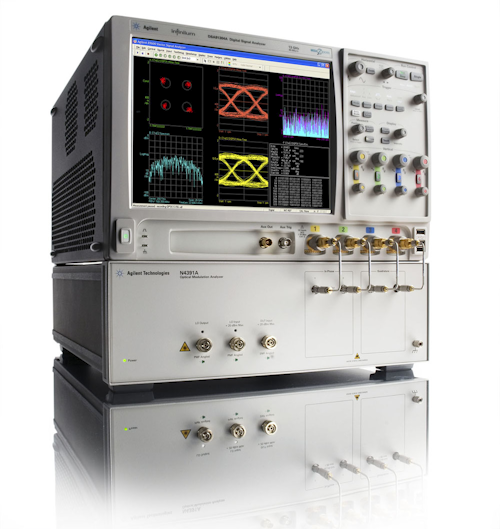 MARCH 8, 2010 -- Agilent Technologies Inc. has introduced the industry's first system impairments analysis for chromatic dispersion (CD) and first-order polarization mode dispersion (PMD) with the N4391A optical modulation analyzer.
The new tools allow system engineers, for the first time, the ability to characterize distortions of constellation diagrams caused by the CD or PMD of an optical link, reveals a company representative.
The N4391A optical modulation analyzer offers tools to analyze and quantify the signal integrity of a vector modulated signal (e.g., error vector magnitude and quadrature error). The N4391A is the first optical modulation analyzer offering measurement and compensation of the link's CD and first order PMD by analyzing the received signals, offering engineers insight into the root cause of constellation distortions. The CD and PMD compensation helps system researchers and engineers quantify their signal quality along the link and down to the receiver input by correcting for CD and PMD distortions in the constellation diagram and displaying CD and first order PMD values in the status line of the N4391A.
The raw, digitized data coming from the N4391A's optical coherent receiver can be processed using Microsoft's .NET framework and included as a user-provided library. For greater flexibility of data analysis, customers can include their algorithms in the burst-mode processing system of the N4391A. The N4391A can handle any number of user algorithms in a user-selectable sequence.
CD, PMD will be offered with an extra license for $2,900. All other tools will be included in the N4391A optical modulation analyzer's standard software package at no extra cost. Products will be available in July 2010.