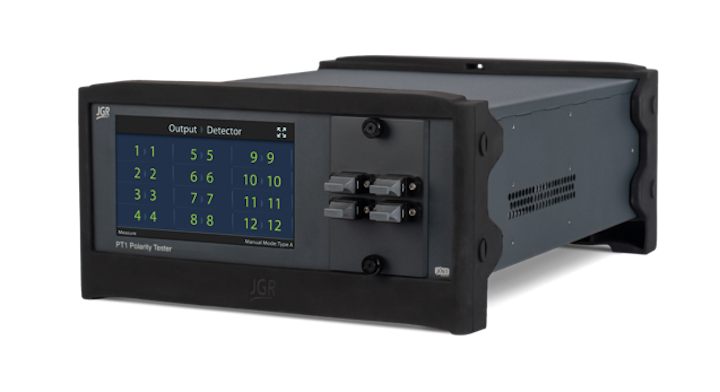 JGR Optics Inc. has taken the wraps off the PT1 – Polarity Tester. Now available, the PT1 polarity tester offers a touchscreen interface to enable one touch testing of typical pre-programmed type A, B, C, and configurable custom profiles.
The PT1 can be equipped with up to 288 channels. The PT1 operates on a new standalone JGR platform that does not require a PC. However, it does support remote operation through USB or Ethernet. JGR says the PT1 is the first in an expected line of test instruments will reduce test time, increase throughput, and pave the way toward test automation.
"With the increasing complexity and fiber counts of cable assemblies, polarity testing has become a critical step in the testing process. JGR has been working hard to make this step of the process effortless, reliable, and efficient," said Mark Berezny, Senior Product Line Manager at JGR Optics Inc.
The PT1 will be on display at Booth 13-44 at the Fiber Optics Expo at Tokyo Big Sight.
For related articles, visit the Test and Measurement Topic Center.
For more information on test instruments and suppliers, visit the Lightwave Buyer's Guide.