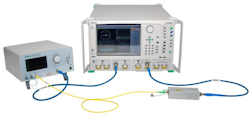 Anritsu Co.
Anritsu Co. has unveiled the modular ME7848A Opto-electronic Network Analyzer (ONA) system. The ONA system combines Anritsu's VectorStar vector network analyzer (VNA) with an O/E calibration detector and E/O converter to enable cost-effective E/O, O/E, and O/O measurements on optical devices operating at 850 nm, 1310 nm, and 1550 nm.
The VectorStar VNA operates up to 40 GHz and 70 GHz and is paired with the MN4765B O/E calibration module detector and MN4775A E/O modulator. The modular approach enables technicians to customize the system, either using it with or without the E/O modulator or by adding with their own devices to meet specific test requirements and achieve time and cost benefits, Anritsu says. The ME7848A modular system also can accelerate time-to-market for new products by improving first-time yields.
The system can be further adapted for different wavelengths with the addition of the appropriate O/E calibration module or E/O converter. The VNA can be reconfigured for different wavelengths through calibration with the MN4765B, which Anritsu says eliminates the need for additional VNAs to accommodate various wavelengths.
The ME7848A ONA offers a traceable path with what Anritsu asserts is "excellent" performance specifications, making the system well-suited for opto-electronic component R&D and production applications. The system capabilities enable engineers to quickly identify measurement parameters and component performance for a high degree of confidence in their designs, Anritsu concludes.
For related articles, visit the Test and Measurement Topic Center.
For more information on test instruments and suppliers, visit the Lightwave Buyer's Guide.
To stay abreast of test instrument advances, subscribe to Lightwave's Enabling Technologies Newsletter.