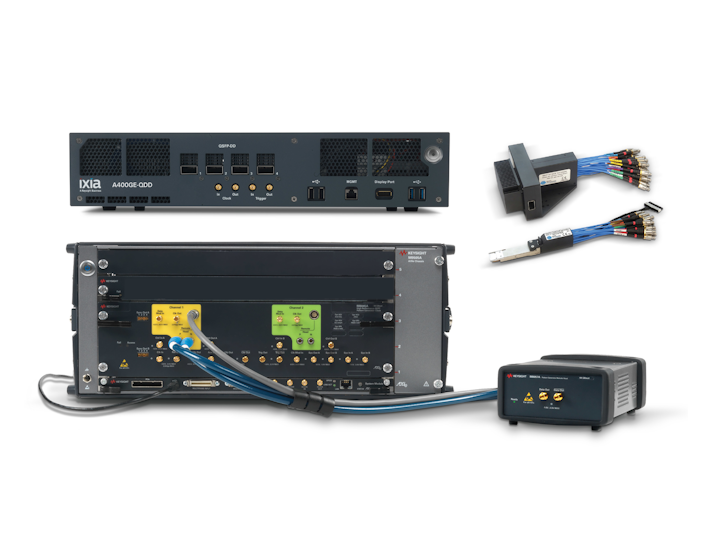 Keysight Technologies
Keysight Technologies, Inc. (NYSE: KEYS) now offers the N4891A 400GBASE Forward Error Correction (FEC)-aware compliance test system. The N4891A comprises the equally new A400GE-QDD 400GE multiport test system and company's previously available M8040A BERT. The result is what Keysight calls the first FEC-aware compliance test platform for measurement of frame loss ratio in 400 Gigabit Ethernet links that use FEC.
The N4891A supplies one stressed lane and maintains the proper FEC striped test pattern data, without placing stress on the other lanes, says Keysight. The system characterizes and quantifies the actual bit error rate (BER) and FEC performance of silicon communication devices, the company asserts. The approach is based on IEEE 802.3 standard clauses 121,122,123, 124 (former 802.3bs) and 136, 137, and 138 (former 802.3cd).
The N4891A is designed to meet the challenges posed by 400 Gigabit Ethernet designs based on 56-Gbps electrical lane signaling rates, which increase the level of complexity in the development of stable port electronics in networking devices, says Keysight. The challenge lies in characterizing and quantifying the BER along with FEC performance of silicon devices, application-specific integrated circuits (ASICs), fiber and copper interconnects, optical transceivers, and port electronics of switches and routers.
"Keysight's new test solution fills a gap in high-speed Ethernet testing by combining best-in-class technologies from analog and protocols," said Jerry Pepper, Fellow, Keysight Technologies. "Until now, the industry had no way to verify FEC performance while simultaneously stressing one of the lanes according to the IEEE 802.3 recommendation. This innovation enables customers to enter systems testing with higher confidence and deliver their 400GE products to market faster."
For related articles, visit the Test and Measurement Topic Center.
For more information on test instruments and suppliers, visit the Lightwave Buyer's Guide.
To stay abreast of test instrument advances, subscribe to Lightwave's Enabling Technologies Newsletter.