Fiber-optic test equipment market to boom
Oct 1st, 2001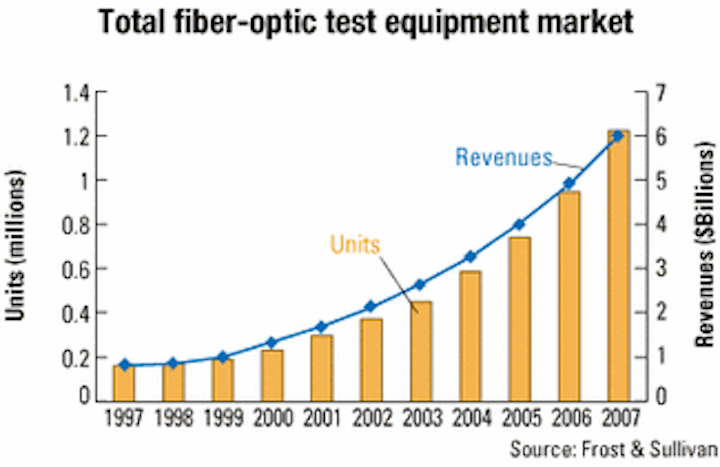 As consumers and businesses increasingly require Internet connections with faster speeds and greater bandwidth, communications companies will install more optical technologies to meet those needs. Consequently, the markets for fiber-optic test equipment will expand rapidly. According to analysis contained in the report "World Fiber Optic Test Equipment Markets" from Frost & Sullivan (San Jose, CA), the total market generated $1.42 billion in 2000 and will reach $6 billion by 2007.
"The adoption of dense wave-division multiplexing technology has made a large contribution to the explosion of fiber-optic test equipment markets," says Bal Ganjoo, a Frost & Sullivan industry analyst.
Communications companies are turning to new technologies to expand their networks' capacity. One of the most promising solutions is DWDM, which splits light into individual wavelengths, each containing an independent signal, and then transmits all wavelengths simultaneously through a single fiber. The implementation of DWDM will offer important growth opportunities for market participants.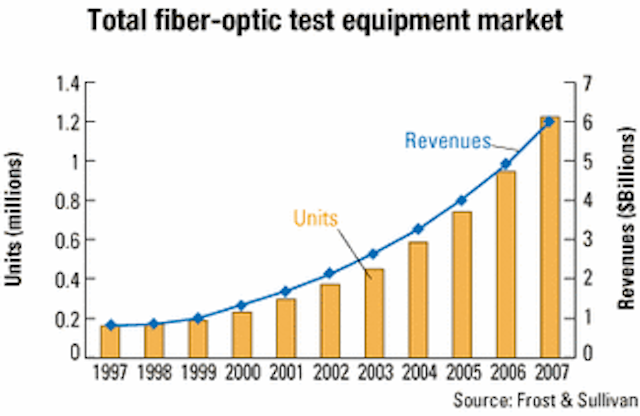 "Test equipment sellers need to provide enhanced products that can ensure sophisticated testing of these new technologies and their applications," says Ganjoo. "Customers are looking to test equipment manufacturers not only for instruments but also for advice, education, and support."
Winners in the test and measurement markets are those firms that offer total solutions, including education, consultation, problem solving, engineering, and in-depth after-sales support. Measurements required of test equipment are getting complicated. As new protocols are deployed, and more sophisticated test instruments are produced, customers will need detailed information to effectively test systems.
For more information, or to purchase the report, "World Fiber Optic Test Equipment Markets," call 210-348-1032 or visit Frost & Sullivan's Website at www.frost.com.