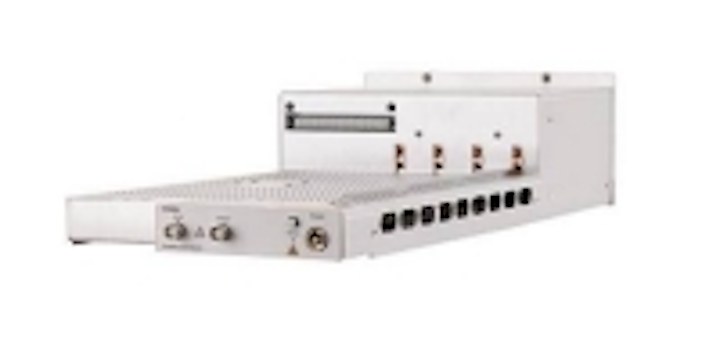 Keysight Technologies, Inc. (NYSE: KEYS) has unveiled the 81606A tunable laser source, a new module for the 8164B lightwave measurement system. The module offers sub-picometer tuning repeatability and what the test and measurement company asserts is best-in-class wavelength accuracy, even in full-speed, two-way sweeps, for both design and manufacturing applications.

The 81606A represents an upgrade from Keysight's 81600B laser, a fact highlighted by a number of improvements:

15 dB more dynamic range through higher signal power with lower spontaneous emission
Four-fold improvement in absolute accuracy with increased real-time tracking speed and resolution, thanks to a proprietary wavelength reference unit
40X times faster sweeps, thanks to enhanced feedback controls and drive mechanics.

The improvements will enable the module to accelerate the automated adjustment of wavelength-selective devices and enable engineers to validate more devices per hour than previously possible. Keysight sources said that, for example, a single instrument now can test eight channels.

Such lasers, in combination with optical power meters and a polarization controller, are used to measure the filter slope, isolation, polarization dependence, insertion loss, and reflectivity of multiplexers/demultiplexers, channel interleavers, and wavelength-selective switches used in reconfigurable fiber-optic networks with reconfigurable optical add/drop multiplexers (ROADMs).
They can find application in the design arena as well as on the production floor. With these two applications in mind, Keysight offers two versions of the 81606A. Option 216 offers tuning ranges from 1450 nm to 1650 nm, while the less expensive Option 116 covers 1490 nm to 1640 nm. Option 216 includes coverage of the wavelengths typical in PON and CWDM applications, broadening its applicability.

The 81606A tunable laser source module may be ordered now at a list price starting from $72,964. Shipments will start in July, Keysight says. The new module will be on display at OFC March 24-26 at booth 1201.

For more information on lab test equipment and suppliers, visit the Lightwave Buyer's Guide.