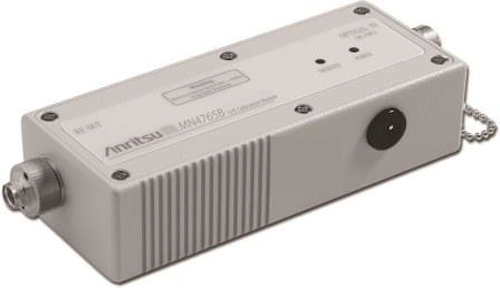 Test and measurement specialist Anritsu Co. has unveiled the MN4765B O/E Calibration Module for its MS4640B Series VectorStar vector network analyzers (VNAs). The module enables the VNAs to offer cost-effective, flexible measurement of 40-Gbps components and optical transceiver performance, Anritsu asserts.

Serving as an optical receiver, the MN4765B enables engineers to use the MS4640B Series to perform optoelectronic measurements on laser modulators and photo-receivers during R&D and manufacturing. The MN4765B can also be used with the VNA to characterize optical transmitters, receivers, and transceivers, Anritsu says.

Magnitude and phase characterization is obtained using a primary standard characterized by NIST and conducted in the Anritsu calibration lab. Use of the MN4765B with the VectorStars therefore reduces measurement uncertainty across the VNAs' 70 kHz to 70 GHz frequency range. When thus calibrated, the MS4640B Series VectorStar VNAs enable error-corrected transfer function, group delay, and return loss measurements of E/O and O/E components and subsystems, Anritsu asserts.

The MN4765B module's thermal stabilization eliminates drift in photodiode performance over temperature; it is designed with additional circuitry for temperature and bias stability. The InGaAs photodiode offers bandwidth response to 70 GHz and a typical responsivity of 0.7 A/W.

For more information on test instruments and suppliers, visit the Lightwave Buyer's Guide.