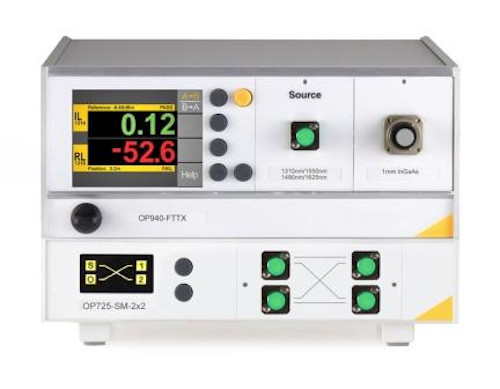 Test and measurement systems supplier OptoTest now offers the OP940-OP725 Bidirectional IL/RL Test System.

The system comprises a pair of units. Updates to the OP940 insertion and return loss (IL/RL) meter enable direct control of the OP725 optical switch via USB link. The OP725 is a smaller version of the company's OP720 Optical Switch that can also be controlled by a computer via software.

When connected to an OP725, the OP940 gains added functionality in most of its mode screens, including dual IL/RL and scan mode. The combination delivers real-time IL/RL results or reflectance scans in either direction in less time.

The OP725 also can be used as a 2x2 optical switch with OptoTest software to make any source unit bidirectional.

For more information on test instruments and suppliers, visit the Lightwave Buyer's Guide.