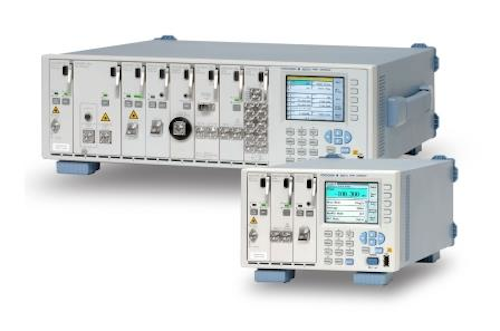 Yokogawa says it now offers optical attenuation and switch modules for its AQ2200 Series Multi-Application Test System (MATS) that extend the system's range to include GI50 multimode fibers.

With data centers and other application spaces turning to multimode fiber for short-reach, high-data-rate requirements, Yokogawa says it has seen an increase in demand for test instruments that can be used to measure the performance of SR4/SR10 optical transceivers, multimode-friendly IP routers and hubs, and related technologies.

The new modules accommodate the larger core diameter that multimode fiber possesses versus single-mode fiber, as well as the use of light-emitting diodes (LEDs) and vertical-cavity surface-emitting lasers (VCSELs) that operate at the 850 nm and 1300 nm wavelengths.

The AQ2200 Series is a modular optical test platform designed to leverage a range of modules for optimal configuration. The system is available with two frame controller platforms, one with three and the other with nine slots for connecting modules. Available modules include variable optical attenuators (with or without built-in power meters), high-power and multi-channel power meters, high-stability laser sources, and switches in a variety of channel counts.

A single MATS frame therefore can handle multiple applications simultaneously. The system's programmability and remote control features enable different users to control the modules. Yokogawa says the fast response of the AQ2200 makes it particularly useful in manufacturing environments.

For more information on test equipment and suppliers, visit the Lightwave Buyer's Guide.