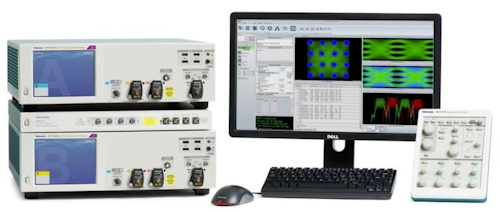 Test and measurement instrument developer Tektronix, Inc. used OFC 2015 last week to debut the DPO70000SX 70-GHz ATI Performance Oscilloscope, which the company asserts has the lowest noise and highest effective bits of any comparable real-time oscilloscope. Tektronix expects the real-time oscilloscope to prove particularly useful in the development of optical systems that leverage coherent transmission as well as other forms of advanced research.

The DPO70000SX ATI Performance Oscilloscope leverage's the company's patented Asynchronous Time Interleaving (ATI) technology, which preserves signal-to-noise ratio for higher fidelity. Tektronix asserts the scope therefore can enable users to accurately capture and measure signals at higher speeds than they can with any other oscilloscope. The system features a 200 GS/s sample rate with 5 ps/sample resolution.

The scope's small size (5.25-inch tall) enables users to place it very close to the device under test (DUT) to shorten cable lengths and therefore preserve signal fidelity at very high frequencies. It also features flexible display and control for analysis.

Finally, the DPO70000SX offers scalability through the company's patent-pending UltraSync architecture, which provides precise data synchronization and convenient operation of multi-unit systems, according to Tektronix. Such precise multi-channel timing synchronization is essential in applications such as coherent optical modulation analysis at 100 Gbps and above, the company points out.

The DPO70000SX also supports the use of one channel at 70 GHz at 200 GS/s or two channels at 33 GHz, 100 GS/s. Dual-unit systems synchronize a pair of DPO70000SX units to provide two channels at 70 GHz, 200 GS/s each, or four channels at 33 GHz, 100GS/s operating as a single, coordinated instrument. Dual-unit systems can be easily separated into individual units when needed. A DPO7AFP auxiliary front panel gives direct control of common instrument settings to provide a typical bench oscilloscope experience – for a single unit or a multi-unit system.

DPO70000SX oscilloscopes are available to order worldwide with export restrictions for certain countries. The 70-GHz ATI units start at $315,000 US MSRP, with a two-unit system starting at $479,000 US MSRP. A 33-GHz non-ATI unit is available starting at $285,000 US MSRP, with a two-unit system starting at $371,000 US MSRP.

For more information on test instruments and suppliers, visit the Lightwave Buyer's Guide.