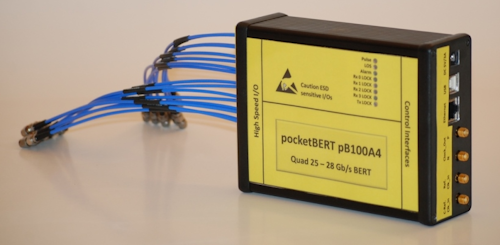 Test and measurement instrument developer pocketBERT has extended its range of miniature instruments with the pB100A, a fully integrated quad 25.78125-, 27.95-, and 28.05-Gbps PRBS generator and checker and BER calculator unit.

The 210x160x90-mm unit is designed to recover 100GBASE-R4, OTL4, or 128G Fibre Channel compliant data streams. The pB100A is controlled through a USB link to a PC. The graphical user interface configures and controls the individual four data lanes to match the application-specific setup for the electrical or optical links or components under test, says the company.

Each output and input can be adjusted individually for transmitter pre- and post-cursor emphasis and receiver peaking. Next to the standard PRBS patterns (231-1, 223-1, 215-1, 29-1, 27-1, square wave eight-ones and eight-zeroes), the device supports a programmed 128-bit custom-defined pattern.

The unit uses an internal programmable clock generator, which means external clocks aren't required. However, an external reference clock can be applied if needed.

Additional receiver features include:

40 mVppd minimum input sensitivity on 28 Gbps
Integrated peaking and limiting amplifier
Internal 100-Ohm termination on CML inputs
Separate reporting on "0" and "1" error counts
Optional eye monitoring capability.

Samples of the pB100A will be available by the end of the first quarter of this year. The company quotes pricing as $17,500.00 ex works San Diego.
It joins the pocketBERT pB10A, which is designed for 10-Gbps applications (see "pocketBERT pB10A offers 10G CDR, BERT, clock synthesis in single handheld package").

For more information on test instruments and suppliers, visit the Lightwave Buyer's Guide.