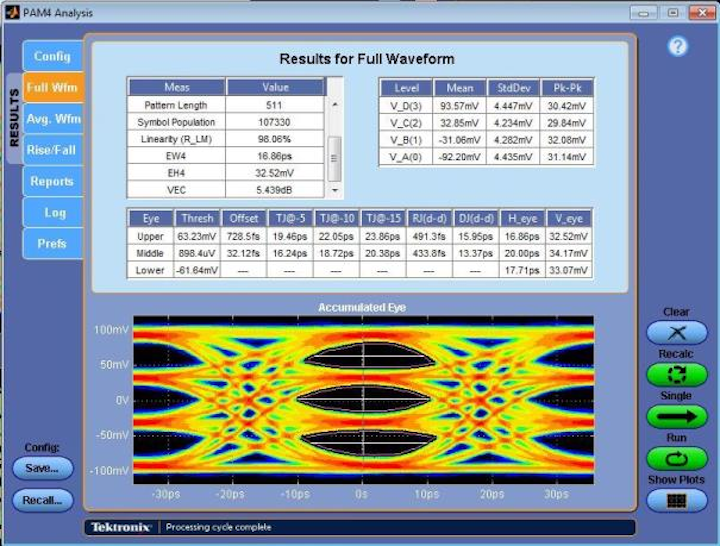 Tektronix, Inc. says it has made an update that improves the ability of its DPO70000SX oscilloscope series to validate 400G physical layer transmitter designs based on PAM4 modulation. The new release adds PAM4 error detection, a signal-to-noise and distortion ratio (SNDR) measurement capability that Tektronix says is best on the market, and new advanced FFE/DFE equalization capabilities.
The new release aims to assist those working on 400 Gigabit Ethernet and other applications that leverage PAM4 to reduce the complexity of PAM4 transmitter measurements. The release accomplishes this goal by combining all PAM4 measurement capabilities into a single application, Tektronix says.
"Designers working on 25-Gbps and 50-Gbps products face an uphill battle as they transition from NRZ to PAM4," said Brian Reich, general manager, Performance Oscilloscopes, at Tektronix. "Our latest PAM4 solution brings an extensive list of PAM4 measurement capabilities into a single user experience that is easy to operate. And because of the superior signal acquisition capabilities of the DPO70000SX platform, we are delivering the best margin possible for characterizing PAM4 components and systems."
The capabilities are in tune with the most recent revisions of the IEEE and OIF-CEI standards, according to Tektronix, and include:
Error Detection and Visualization: Repeating symbol patterns are automatically recognized, so that symbol error rate (SER) and bit error rate (BER) values are accumulated and reported. An Error Navigator enables technicians to view individual symbol errors in the acquired waveform, together with contextual information.
SNDR Measurement Capability: The SNDR measurement capabilities enable the DPO70000SX ATI-based oscilloscopes to deliver results up to 34 dB.
Equalization Support: This release incorporates the advanced Feed Forward Equalization (FFE) and Decision Feedback Equalization (DFE) signal conditioning requirements specified in the latest IEEE 802.3bs 400G specification.
The PAM4 release is available now at prices that start at $7,500 U.S. MSRP.
For related articles, visit the Test and Measurement Topic Center.
For more information on test instruments and suppliers, visit the Lightwave Buyer's Guide.