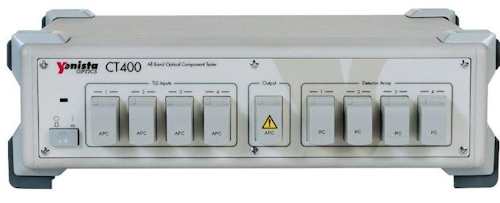 Fiber-optic test and measurement instrument vendor Yenista Optics has used the 2014 ECOC event in Cannes, France as a launching pad for a pair of new offerings. They include the CT400 Passive Component Tester operating from 1240 to 1680 nm and the XTA-50 range of bandwidth adjustable tunable filters. The company also has upgraded its OSA20 Optical Spectrum Analyzer.

Yenista says test technicians can combine the CT400 Passive Component Tester with Yenista's tunable lasers to create a complete swept-wavelength measurement system. The unit has a 1-pm wavelength resolution and 5-pm wavelength accuracy. Yenista says that a single wavelength sweep can achieve a 65-dB dynamic range with a typical measurement time of 3.5 seconds. The company offers a variety of models that togethercover any wavelength in the 1240- to 1680-nm range.

The CT400 can also be integrated with external power or current meters to enable characterization of both high-port-count devices and integrated silicon photonic components, Yenista adds.

The XTA-50 Tunable Filter offers a touch screen user interface and Ethernet communication. The XTA-50 is available in four models covering the O, S, C, and L bands, and with bandwidths from 32 pm (4 GHz) to 5 nm.

Finally, Yenista added new capabilities to its OSA20 Optical Spectrum Analyzer to enable measurement of the gain and noise figure of optical amplifiers. The company also has added a dedicated "burst signal" mode to measure the spectrum in passive optical networks (PONs) irrespective of duty cycle (1 to 100%).

For more information on test equipment and suppliers, visit the Lightwave Buyer's Guide.