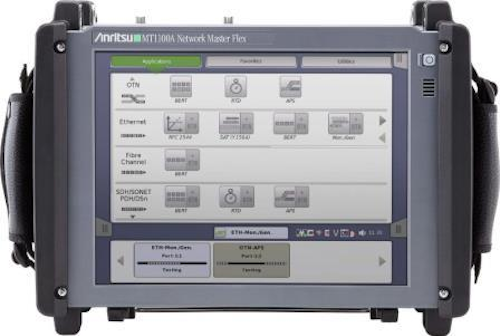 Test and measurement vendor Anritsu Co. has introduced the MT1100A Network Master Flex, which it says is a cost-effective, easy-to-use, full-function multi-protocol transport tester.

Combining light weight and portability with high performance – including support up to 400 Gbps (4x100G) – the MT1100A Network Master Flex is equally adept in the field during installation and maintenance of fiber-optic networks as it is in the R&D lab and on the manufacturing floor to test transport equipment, the company claims.

The modular MT1100A Network Master Flex supports bit rates from 1.5 Mbps to 100 Gbps and can be configured to meet current test requirements with a cost-effective upgrade path as measurement needs change. The platform supports testing of emerging Optical Transport Network (OTN) infrastructure, including ODU0, ODU2e, ODU4 and ODUflex, as well as legacy Ethernet, Fibre Channel, SDH/SONET, and PDH/DSn systems. A wide variety of interfaces are supported without the need to reconfigure modules for added flexibility and time and cost efficiencies.

Three dual-port modules are compatible with the MT1100A platform. The MU110010A is a multi-rate module for up to 2x10G ports, the MU110011A supports 10M to 100G, and the 40/100G MU110012A module supports CFP2/CXP optical transceivers for 2x100G ports. Up to two modules can be configured in a single MT1100A mainframe, enabling the tester to accommodate as many as four fully independent ports at all rates, including 100G. This makes the MT1100A the first instrument in its category to support testing of 400G client signals currently under development, Anritsu asserts.

The battery-operated MT1100A Network Master Flex can be used in a number of field applications. Its support of OTN up to OTU4, as well as emerging OTN functions, makes the MT1100A well suited for core and metro network installation and maintenance. For carrier-class Ethernet installation and troubleshooting, the MT1100A supports Ethernet testing, IP channel statistics, and frame capturing. The MT1100A also can conduct synchronous Ethernet testing up to 10 Gigabit Ethernet for mobile backhaul installation and verification.

As the first handheld tester to support 400G client testing, the MT1100A Network Master Flex can also be used in the lab and on the production floor. The MT1100A provides remote operation and remote control for seamless integration into R&D and manufacturing applications.

The platform features a 12.1-inch touchscreen display – the largest in its class, Anritsu says – coupled with an intuitive graphical user interface (GUI), which simplify operation and allow all results to be clearly seen in any environment. The GUI also supports a variety of languages such as English, Chinese, and Japanese.

For more information on test equipment and suppliers, visit the Lightwave Buyer's Guide.