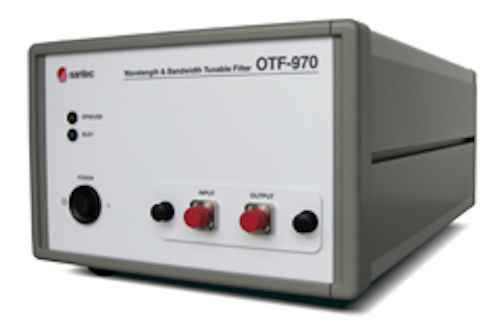 | | |
| --- | --- |
| | |
Santec USA Corp., a developer of test instruments and fiber-optic components, has announced a programmable optical tunable filter that combines wavelength and bandwidth tuning and a sharp filter slope. The OTF-970 targets test and measurement applications in 40- and 100-Gbps transmission, DWDM channel filtering, amplified spontaneous emission (ASE) noise filtering, and next-generation optical cross-connects (OXCs).

Built with free-space custom optics and an ultra-fine tuning mechanism, the OTF-970 offers precise filter control and a flat-top passband shape, Santec says. The filter is particularly suited to high isolation channel selection and noise filtering in high-speed transmission testing at 40 and 100 Gbps, the company adds.

The OTF-970 offers tunability across the full C+L bands from 1530 to 1610 nm. The product line-up consists of two versions depending on transmission bandwidth range and slope shape. The standard type has 0.1- to 15-nm adjustable bandwidth with a filter slope of 200 dB/nm, and the ultra-fine type has 0.08- to 4-nm bandwidth tuning with the steeper filter slope of 400 dB/nm.

The fully programmable OTF-970 has automatic adjustment of the filter center wavelength and bandwidth. An integrated power meter monitors output power and features an automatic peak search function. Supporting control software is compatible with USB and GP-IB.

The OTF-970 will be exhibited at ECOC2012.

For more information on test equipment and suppliers, visit the Lightwave Buyer's Guide.