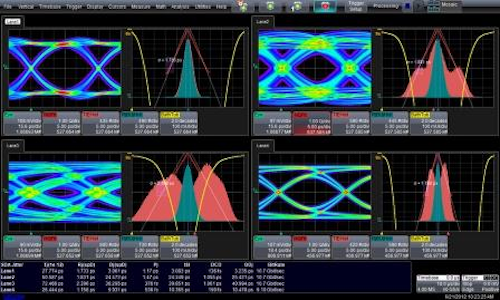 LeCroy Corp. claims that its new SDAIII-CompleteLinQ is the only serial data analysis package that performs eye, jitter, vertical noise, and crosstalk analysis on up to four lanes of data simultaneously, with quick and easy lane-to-lane comparisons.

Mobile and cloud computing is driving demand for higher data throughput, the company explains. Existing and emerging standards, such as PCIe Gen3, 40/100GBase-R, and InfiniBand, are meeting these needs by utilizing multiple serial data lanes, as well as increasing data rates on each lane – up to 28 Gbps – to achieve very high data throughput.

Even on a single lane of serial data, the higher-speed data rates increase the characterization, debug, and compliance test challenges. Determining the root cause of eye closure in the channel between the transmitter and receiver is the primary challenge. Simulating where engineers cannot place a probe or otherwise access the signal becomes critical. Moreover, the need to analyze high-speed serial data transmissions across parallel channels adds further complexity. Crosstalk between lanes, or coupled from other sources, and other signal integrity issues can be significant problems.

The key to understanding the root cause of poor system performance is to view the performance of multiple lanes simultaneously, measuring vertical noise, and determining pattern dependency of the jitter and the noise, according to LeCroy. The company claims it is the only vendor with the combination of real-time signal acquisition and serial data analysis capabilities that make it possible to quickly and successfully design high-speed and/or multi-lane serial data systems.

The SDAIII-CompleteLinQ extends LeCroy's serial data analysis toolsets to include the simultaneous analysis of up to four lanes of serial data traffic. With multi-lane analysis, engineers can view eye diagrams on all lanes, or use the multi-lane capability to analyze a single lane at multiple points using LeCroy differential probes or the VirtualProbe option. The SDAIII-CompleteLinQ can also show multiple analyses of a single serial data signal, which is ideal for comparing different equalization schemes with the Eye Doctor II option.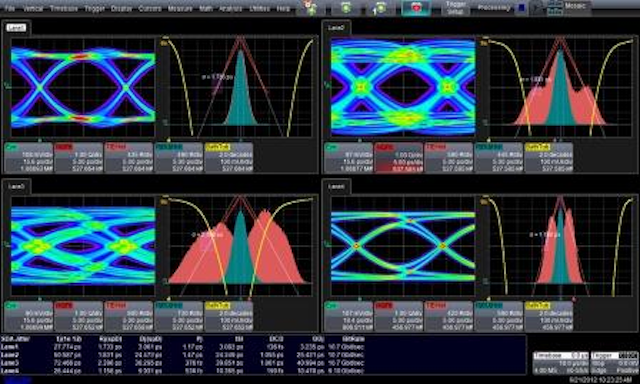 The SDAIII-CompleteLinQ also solves the problem of lane-to-lane-comparisons with LaneScape Comparison Mode and the new Reference Lane. Users can store and display the complete analysis of a lane into the Reference Lane and use a LaneScape display mode to compare the analysis of one, two, or all lanes simultaneously.

For more information on test equipment and suppliers, visit the Lightwave Buyer's Guide.