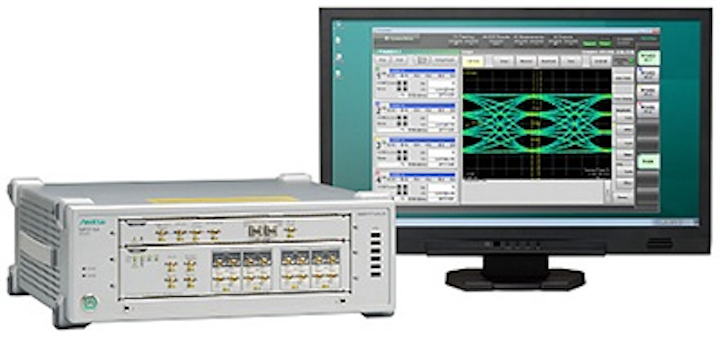 Anritsu Co. says it now offers a four-channel sampling oscilloscope option for its BERTWave MP2110A improving the multi-function test instrument via the integration of an oscilloscope and 100G bit-error-rate tester (BERT). The company suggest the combined capabilities will enable the BERTWave to be used in development and manufacturing environments to evaluate the physical layer performance of 100G/400G optical transceivers, active optical cables (AOCs), direct attach cables (DAC), and other high-speed optical devices used in data centers, core/metro networks, 4G/5G mobile backhaul, and 5G mobile fronthaul.
With the sampling oscilloscope option installed, the BERTWave MP2110A can be used to evaluate devices using NRZ/PAM4 signaling formats (25-Gbaud NRZ to 53-Gbaud PAM4 with a built-in clock recovery option) as well as different wavelengths. It also can be applied to evaluation against a variety of transmission standards, including Ethernet, eCPRI/RoE, CPRI, SDH/SONET, OTN, InfiniBand, and Fibre Channel. The four-channel option enables testing of four channels or individual channels simultaneously. That means technicians can use the instrument to validate multichannel optical modules as well as multiple single-channel modules, the company points out.
For related articles, visit the Test and Measurement Topic Center.
For more information on test instruments and suppliers, visit the Lightwave Buyer's Guide.