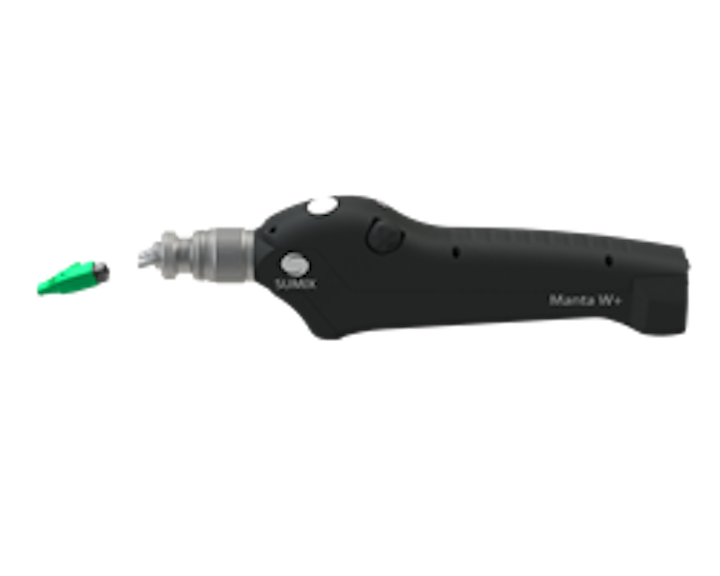 Sumix Corp., working with 3M, has developed an adapter for its Manta-W+ fiber inspection microscope that enables the instrument to inspect 3M's recently announced Expanded Beam Optical Connector. While the new fiber-optic connector is designed to be less sensitive to dust and other particles on the fiber endface, installations will still need inspection, Sumix points out.
The Expanded Beam Optical Connector leverages a non-contact optical coupling which, in combination with the connector design, reduces sensitivity to dust and improves signal integrity, according to 3M (see "3M says expanded beam ferrule and connector system reduces dust sensitivity"). The design reduces the need for maintenance and cleaning, which should be a boon in applications where the connector will be hard to access, such as onboard optics deployments, a 3M source said at OFC 2019. However, the need for inspection isn't removed entirely (particularly at initial installation), which is where the Manta-W+ fiber scope comes in.
Sumix says it collaborated with 3M on the design and development of the adapter. It also has worked with 3M on pass/fail criteria. The result is the adapter and new software, which Sumix says will find use in data center, laboratory, and manufacturing applications. The Manta-W+ fiber inspection microscope earned a 4.0 rating in the 2019 Lightwave Innovation Reviews.
For related articles, visit the Test and Measurement Topic Center.
For more information on test instruments and suppliers, visit the Lightwave Buyer's Guide.