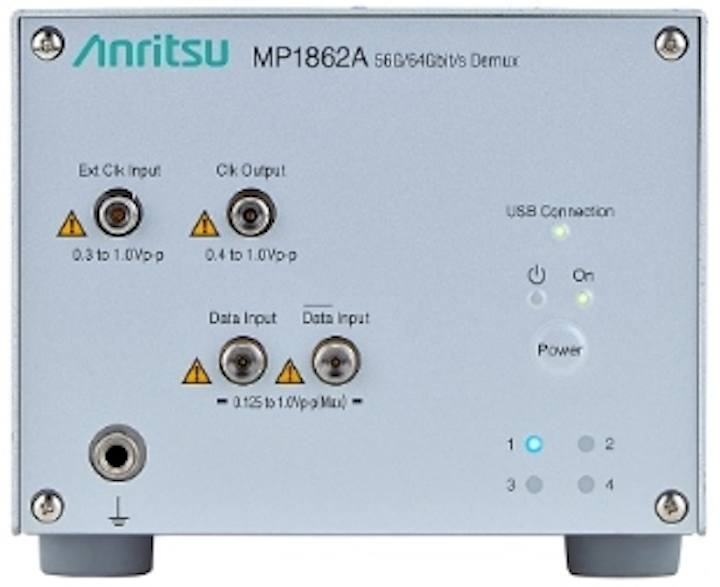 The 56G/64G MUX MP1861A and 56G/64G DEMUX MP1862A help engineers ensure the signal integrity of PHY devices such as SERDES used such high-speed interfaces as 400 Gigabit Ethernet and CEI-56G. Linking the MUX MP1861A and DEMUX MP1862A with the MP1800A BERT Signal Quality Analyzer with its 32G pulse pattern generator/error detector and jitter modulation source supports generation of NRZ data signals at up to 64 Gbps, BER measurements, and jitter tolerance measurements. New standards such as CEI-56G are also supported by jitter tolerance measurements of jitter components such as Dual Tone SJ, RJ, BUJ, SSC, and Half Period Jitter, as well as bathtub jitter measurements. The addition of the MUX MP1861A and DEMUX MP1862A helps to establish the ideal total solution for signal integrity evaluation the emerging, high-speed designs.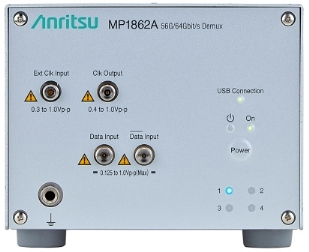 Another benefit of the MUX MP1861A and DEMUX MP1862A is that they enable modular high-speed test configurations. This makes it easy for engineering teams to customize their test systems for 32G multichannel, PAM, emphasis, and 56G/64G serial/multichannel signal analyses and measurements supporting 100G/400G R&D required by the new IEEE and OIF standards. Future equipment investment costs are reduced because of this modular approach, as well.Judge's comment: "SQ and Jitter Tol measurement test eq is not new, but in this case there is a lot of innovation and the product solves an important need in the industry."
Click here to return to the Lightwave Innovation Reviews page.