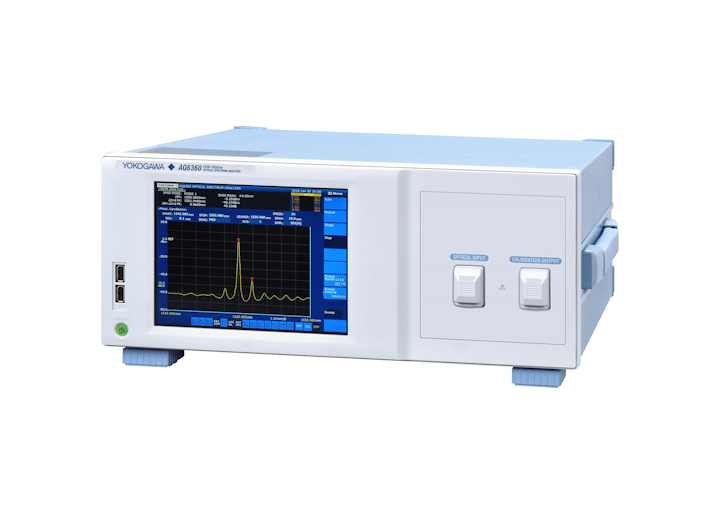 Yokogawa Test & Measurement says it has released the benchtop AQ6360 optical spectrum analyzer (OSA), primarily for production testing of datacom and telecom devices, including laser diodes, optical transceivers, and optical amplifiers. The instrument is the company's first aimed at testing telecom devices during and after production.
For advanced production throughput, the AQ6360 delivers twice the sweep speed of other OSA models designed for R&D purposes, says Yokogawa. The OSA also features free-space optical input to support single-mode and multimode fiber testing alike.
With wavelength resolution and accuracy maintained over the whole wavelength range, the OSA also offers:
· a wavelength range from 1200 to 1650 nm
· selectable wavelength resolution from 0.1 to 2 nm
· wavelength accuracy of ±0.02 nm
· dynamic range of 55 dB
· a measurement range from +20 to -80 dBm
The AQ6360 has enough optical performance to achieve accurate measurements on the side-mode suppression ratio (SMSR),which Yokogawa says is an important laser testing parameter on a production line. To measure the center wavelength and spectral width of transceivers and laser diode modules, the instrument can be used in combination with bit error rate test (BERT) equipment as well.
The AQ6360 combines a new monochromator type that features a simpler design and lighter weight than that fitted to earlier Yokogawa models, eliminating the need for re-alignment if the instrument is moved. According to Yokogawa, the new OSA's compact 4U height housing makes it ideal for use in space-constrained production environments. The AQ6360 also offers a high resolution, responsive 8.4-inch multi-touch capacitive touchscreen design for straightforward operation.
The AQ6360 has a free-space optical input structure that Yokogawa asserts will set it apart from other OSAs with a fiber-coupled input. Its free-space optical input structure accepts a multimode optical fiber without being affected by the high insertion loss that the mismatch between multimode and single-mode fibers causes. As a result, a free-space laser beam from wafer, chip, or device package can be captured using a multimode fiber, and lead to additional measurement throughput improvements.
Yokogawa says that the AQ6360 is equipped as standard with Ethernet and GPIB interfaces for remote access and building automated test systems, and is ready for remote operation. An optional built-in wavelength reference source enables the wavelength calibration function, giving the AQ6360 guaranteed wavelength accuracy.
"In production testing, it is factors such as the speed of measurement, robust design, and lower capital cost that make a test instrument appealing to customers," said Terry Marrinan, Yokogawa Europe and South-East Asia's vice-president sales and marketing. "With the AQ6360, we have produced an instrument that will satisfy the requirement of cost-effectiveness requested by our customer base working for mass production companies without compromising on the quality and reliability for which our instruments are renowned."
The AQ6360 follows the release of the ANDO-branded AQ6315A wideband OSA and the AQ6374 OSA, which Yokogawa introduced in January 2017 (see "Yokogawa offers AQ6374 optical spectrum analyzer for 350-1750 nm range").
For related articles, visit the Test and Measurement Topic Center.
For more information on test equipment and suppliers, visit the Lightwave Buyer's Guide.