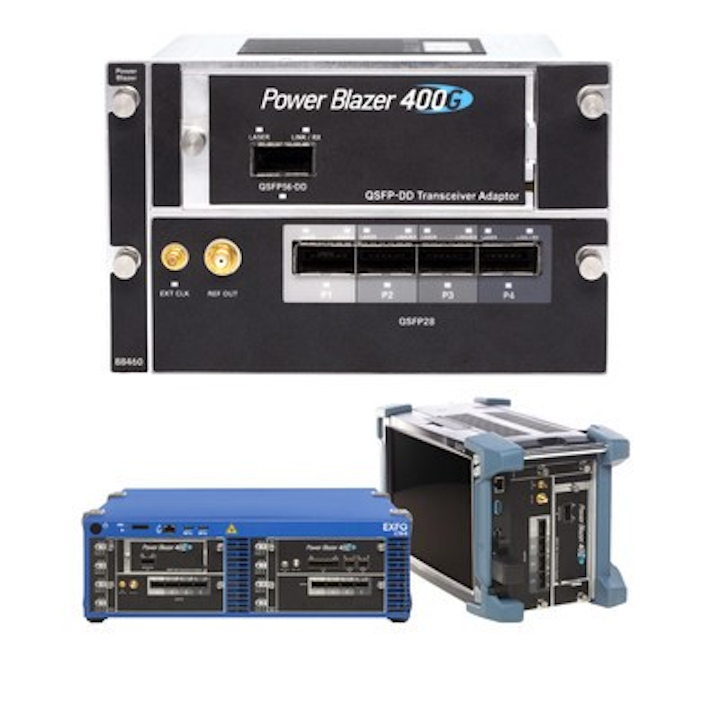 EXFO Inc. (NASDAQ: EXFO) (TSX: EXF) used ECOC 2018 in Rome this week to debut its Open Transceiver System, a modular way to accommodate multiple optical transceiver form factors in various EXFO test platforms. At the show, the company focused on 400 Gigabit Ethernet testing, showing the OTS in conjunction with the new FTBx-88460 Power Blazer. The Power Blazer supports test of such high-speed technologies as 400G, FlexE, and OTUCn/FlexO in a single module – across a wide range of transceiver form factors.
Thanks to OTS, technicians easily can swap transceiver inserts that conform to both current and future transceiver form factors, says EXFO. The company showcased the FTBx-88460 Power Blazer and OTS in a pair of demonstrations. The first took place in the Ethernet Alliance interoperability demonstrations, where the Power Blazer supported 400 Gigabit Ethernet transmissions using a QSFP-DD optical transceiver supported by a complementary OTS adapter module. EXFO hosted the second at its booth, where the test technology specialist collaborated with FPGA vendor Xilinx on a demonstration of FlexE. The demo featured interoperability between EXFO's 400G test platform and the Xilinx UltraScale FPGA VCU140 design platform. The collaboration showcased a 400 Gigabit Ethernet client signal embedded in a 4x100G FlexE group, with the testing of FlexE bonding, sub-rating, and channelization.
"The Xilinx leadership FlexE solution combined with the EXFO test platform leadership clearly show that the FlexE and 400G ecosystem is mature and ready for production," said Farhad Shafai, vice president communications markets at Xilinx. "FlexE is becoming an increasingly important component of the network evolution. Proven interoperability between Xilinx's leading FPGA, FlexE IP, and design platform and EXFO's test and measurement products provide confidence to our customer base."
EXFO sources at the show demonstrated how the OTS enables the same interface modules to benefit both lab and field equipment.
For related articles, visit the Test and Measurement Topic Center.
For more information on test systems and suppliers, visit the Lightwave Buyer's Guide.