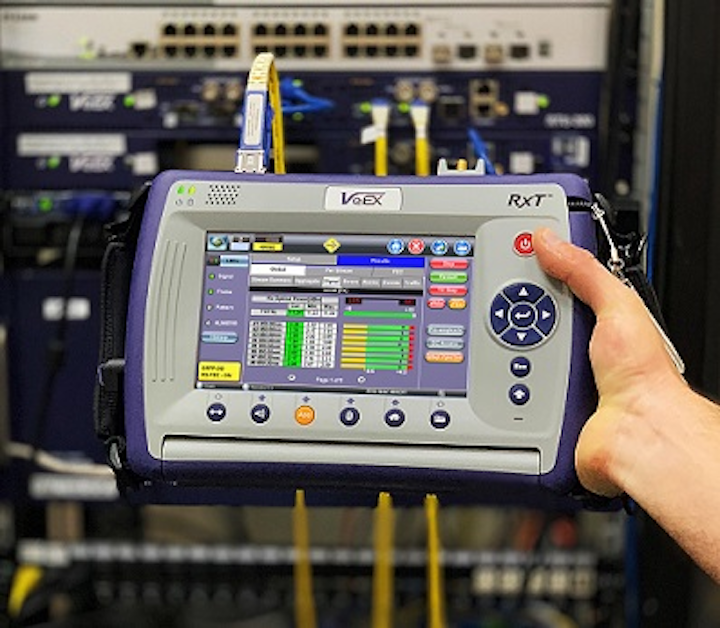 VeEX Inc. will use next week's SCTE Cable-Tec Expo in Atlanta to debut the RXT-6400 400 Gigabit Ethernet (400GbE) test module for the RXT-1200 portable test platform. Installation of the module in the RXT-1200 creates what the company asserts is the first handheld instrument capable of testing QSFP-DD optical transceivers. Thanks to its support of PAM4, the modulation scheme at the heart 400GbE, the RXT-6400 can be used to support a variety of applications in the lab and in the field, VeEX says.
The RXT-6400 test module features integrated PAM4 support via 58G PAM4-based FPGA technology. It therefore doesn't need adapters, which improves signal integrity. VeEX says the portability, mobility, and efficiency of the battery-powered RXT-1200 with the RXT-6400 module will benefit R&D/SVT labs, transceiver testing/benchmarking, field support/FAE, data center intra- and inter-connect, aggregation, operators' evaluation labs, and commercial deployment scenarios.
"The RXT-6400 400GbE module enables VeEX to address the needs of network equipment manufacturers (NEMs), transceiver vendors, data center operators, and service providers in their aggregation, switching, and transport space, with a portable, cost-effective and efficient test solution for optical transport services and pluggable transceiver verification," said Ildefonso M. Polo, vice president of product marketing for VeEX.
VeEX will display the RXT-6400 at SCTE-ISBE Cable-Tec Expo 2018, October 22-25 in Atlanta, GA, in Booth #2301.
For related articles, visit the Test and Measurement Topic Center.
For more information on test instruments and suppliers, visit the Lightwave Buyer's Guide.