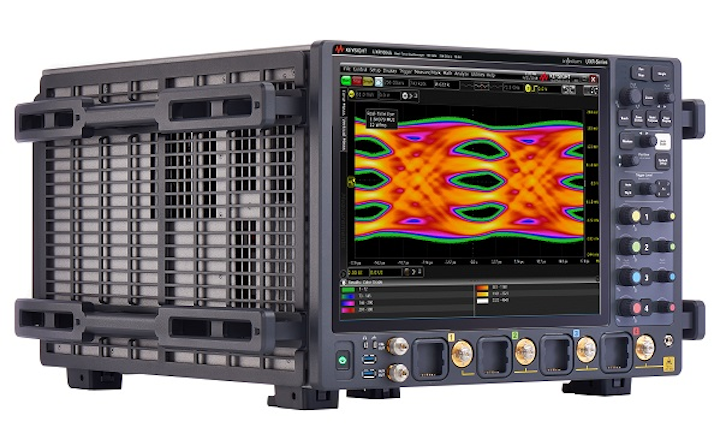 Keysight Technologies, Inc. (NYSE: KEYS) has unveiled a new series of high-bandwidth, fast sampling real-time oscilloscopes. The Infiniium UXR series offers real-time bandwidth of up to 110 GHz and a sample rate of 256 GSa/s. The line targets the latest generation of PAM4, optical, and 5G technology design activities.
The line debuts with six models, ranging from 80 GHz to 110 GHz of bandwidth and offering two or four channels; all offer the 256-GSa/s rate. The UXR series real-time oscilloscopes leverage a chipset based on a proprietary InP process that Keysight asserts enables "exceptionally wide bandwidth and extremely low noise floor." Features of the line include:
10-bit resolution and what Keysight describes as "industry leading" signal integrity, which enables superior effective number of bits (ENOB) during characterization of complex modulation formats
the four-channel models can reduce timing error in applications involving dual-polarization coherent modulation
full self-calibration.
Technicians can pair the Infiniium UXR scopes with the companies up to 110-GHz Optical Modulation Analyzer frontend and VSA-based optical modulation software for end-to-end solution for optical measurement requirements, Keysight adds.
For related articles, visit the Test and Measurement Topic Center.
For more information on test systems and suppliers, visit the Lightwave Buyer's Guide.