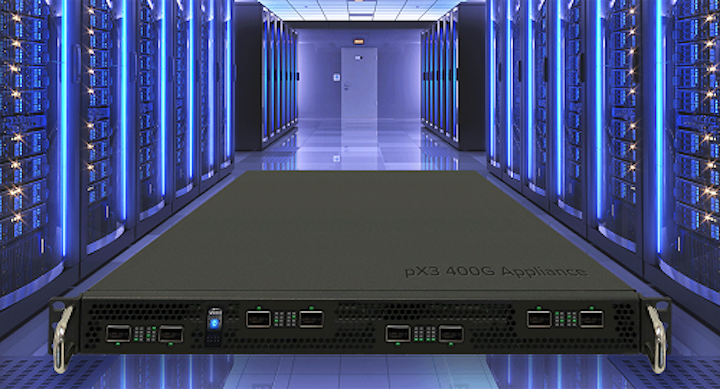 Spirent Communications plc (LSE:SPT) has unveiled the pX3 400G Appliance, an eight-port 1RU rack-mountable instrument that tests 400/200/100/50 Gigabit Ethernet (GbE) interfaces. The company asserts the pX3 400G Appliance is the highest density QSFP-DD optical transceiver tester on the market that enables technicians to validate the forwarding performance and quality of service of multi-terabit routers and switches.
Up to 255 pX3 units can be interconnected to provide synchronized timing for a total of 2,040 ports, says Spirent. The new appliance features Spirent's "Enhanced Results" capability, which offers context-sensitive drill-down results views designed to enable quick navigation to specific ports or streams and identify problematic events. The appliance also will interoperate with and complement Spirent's Ethernet test modules and chassis offerings.
Spirent expects the appliance will appeal to chipset developers, network equipment manufacturers, and service providers. The company promises to continue to pursue high port density in future product releases.
"As the demand for more data and higher speeds continues to increase, Spirent is continually developing new solutions for testing 400G capabilities throughout the network," said Spirent General Manager of Cloud and IP Abhitesh Kastuar. "Spirent's latest high port density product provides our customers a lower cost of ownership per port than any other provider of test equipment on the market."
For related articles, visit the Test and Measurement Topic Center.
For information on test instruments and suppliers, visit the Lightwave Buyer's Guide.