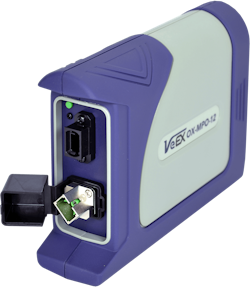 VeEX
VeEX Inc. is using ECOC 2019 in Dublin, Ireland, this week to launch a pair of new products – the OX-MPO-12 optical switch and RXT-4114 CWDM OTDR module – as well as enhancements to existing fiber-optic test offerings. The test and measurement technology company is highlighting the new additions in Booth 3 in Dublin's RDS convention facility.
The new offerings include:
The OX-MPO-12 optical switch, which is a compact, 12-fiber optical switch designed to operate with VeEX OTDRs via USB interface. The switch is optimized for applications where MPO/MTP or ribbon cables need to be tested using an OTDR equipped with a single fiber output.
RXT-4114 CWDM OTDR module pairs with the company's RXT platform. VeEX asserts the module is first field-portable OTDR to support all 18 ITU-T defined CWDM wavelengths with up to 500,000 data sampling points and 3-cm resolution. VeEX says the RXT-4114 offers best-in-class event and attenuation dead zone performance, while the increased sampling resolution offers unmatched network characterization and end-to-end connectivity measurement.
The upgrades to existing products include a full-duplex, digital talkset for the FX100 bi-directional optical loss test set, WaveID for all CWDM/DWDM wavelengths on the FX86/FX87 laser sources, and the new RXT-3400 multi-service test module for the RXT platform for Ethernet, transport and synch applications up to 16 Gbps.
"We are witnessing a sharp increase in multi-fiber testing in data centers, including a resurgence of CWDM technology in metro and fiber deep networks," said Mike Venter, vice president of product development, fiber optics at VeEX. "The mentioned product announcements at ECOC are in response to these industry trends and we are very pleased to make these introductions in a timely manner to meet these demands."
The new offerings also will be on display at SCTE Cable-Tec Expo in New Orleans October 1-3.
For related articles, visit the Test and Measurement Topic Center.
For more information on test instruments and suppliers, visit the Lightwave Buyer's Guide.
To stay abreast of optical communications technology, subscribe to Lightwave's Enabling Technologies Newsletter.