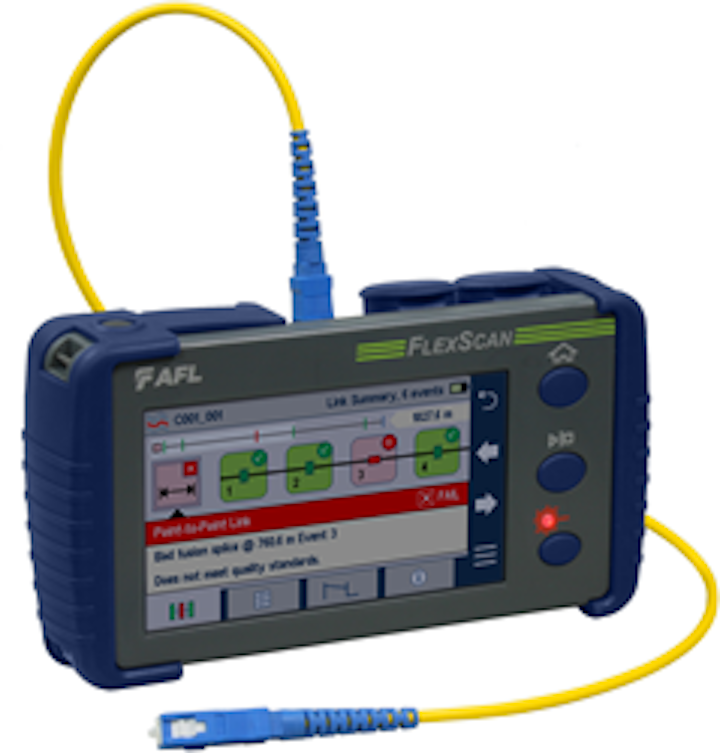 AFL has unveiled the FlexScan optical time-domain reflectometer (OTDR). The pocket-sized test and measurement instrument is designed to provide fast and accurate characterization and fault location in fiber-optic networks.

The FlexScan OTDR leverages AFL's SmartAuto data acquisition technology for event analysis as well as the company's LinkMap display. SmartAuto automatically selects the most appropriate OTDR settings to detect, locate, identify, and measure network start, end, connectors, splices, and macro-bends, according to AFL. LinkMap, meanwhile, applies pass/fail limits to detected events, displays the network using color-coded icons to highlight faults, and recommends corrective action to resolve faults.

The combination makes it easy for technicians to troubleshoot optical networks or completely characterize newly installed infrastructure, AFL says.

"FlexScan's SmartAuto simplifies test setup, while LinkMap clarifies OTDR results, making it easy for any technician to perform testing," summarizes Michael Scholten, senior product marketing manager at AFL.

AFL makes the OTDR available in either single or dual-wavelength OTDR configurations. The system includes integrated visual fault location (VFL) as well as an optional loss test set (source and power meter), and Wi-Fi and Bluetooth communications.

FlexScan will operate up to 12 hours from its rechargeable battery. Results may be stored internally or to a USB memory stick. Internally stored results can be uploaded via USB, Bluetooth, or Wi-Fi for archiving or report generation using the included TRM™ 2.0 Test Results Manager software.

For more information on test instruments and suppliers, visit the Lightwave Buyer's Guide.