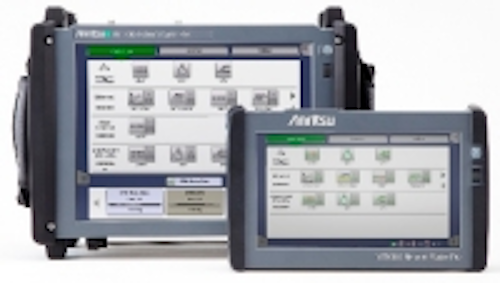 Test and measurement specialist Anritsu Co. says it has expanded the feature sets of its MT1000A Network Master Pro and MT1100A Network Master Flex transport network testers. The new capabilities include support of CPRI/OBSAI and RFC 6349 TCP throughput testing, Optical Transport Network (OTN) multi-stage mapping for OTU3/4, a remote operation tool, MDIO analysis, an event logging feature with filtering, and support of a video inspection probe (VIP).

The new features enable field technicians to use the portable MT1000A and MT1100A in a wider variety of network applications, including mobile fronthaul networks as well as OTN, Ethernet, Fibre Channel, SDH/SONET, and other technologies in transport networks, Anritsu says.

Both systems now support all eight CPRI interface rates from 614.4 Mbps to 10.1376 Gbps, as well as testing of CPRI over OTN and testing of OBSAI. Meanwhile, a new TCP Throughput option enables field techs to use the MT1000A and MT1100A to verify IP network performance via the RFC 6349 test methodology at rates up to 10 Gbps.

The MT1000A and MT1100A also can now be combined with a VIP to evaluate the fiber end face and confirm that quality practices are maintained based on the IEC 61300-3-35 standard. The new remote operation function enables the MT1000A and MT1100A to be remotely operated via a Windows-based PC while supporting file transfer, including download of measurement reports and results files, upload and download of configuration files, and remote software upgrade. The remote control package also supports multi-user access to the instrument, allowing one user per port.

The MT1100A Network Master Flex can accommodate XLAUI/CAUI signals, which opens the door to connection of devices such as 40G/100G/400G optical transceivers, framer ICs, and network equipment using a CFP 10-lane extender. The MT1100A also supports CFP4 transceivers using a CFP2-CFP4 adaptor.

For more information on test equipment and suppliers, visit the Lightwave Buyer's Guide.