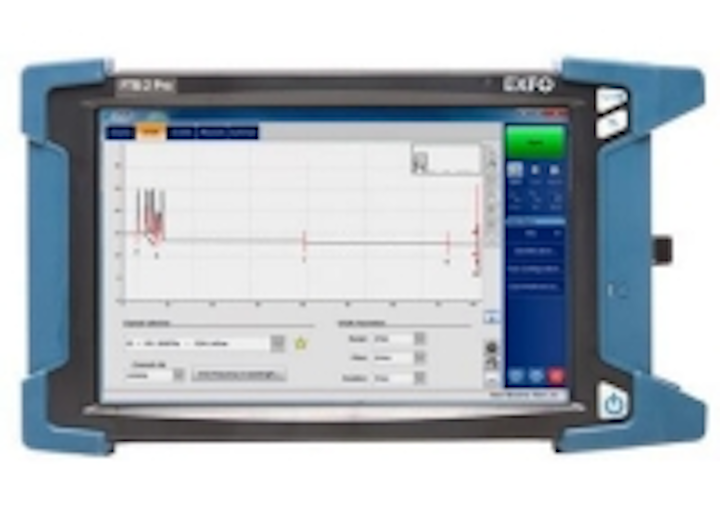 EXFO Inc. (NASDAQ: EXFO, TSX: EXF) has unveiled the FTBx-740C-DWC. The test and measurement systems specialist says the instrument is a high-resolution tunable OTDR that can test through field mux/demux channels using the customer's wavelength. It will support both the troubleshooting of faulty links as well as deployment requirements in metro Ethernet applications.

The DWDM OTDR is designed to complement EXFO's CWDM OTDR and Ethernet test modules to support service providers who are migrating from metro CWDM to DWDM networks to support growing fiber-to-the-building (FTTB)/fiber-to-the-premises (FTTP) and mobile backhaul deployments. The system's single-ended test capabilities enables a single technician to perform measurements that previously had required two technicians when using a traditional light source and OSA approach, EXFO says.

The FTBx-740C-DWC is tunable OTDR in the C-Band and accommodates both 100-GHz and 50-GHz ITU-T grid channel spacings. The unit's tunable laser features high dynamic range for improved performance and to support metro/long-haul reaches.

"Housed in the scalable and powerful FTB-2 Platform, the FTBx-740C-DWC OTDR provides comprehensive validation and fault-finding of the physical layer, along with Ethernet service assessment from 10M to 100G to ensure SLAs from day one," adds Stéphane Chabot, vice-president of EXFO's Physical-Layer Test Division. "Featuring a 12-inch touchscreen, modularity, Windows 8, and commodity applications, this performance combo offers validation and scalability of Ethernet services for high-quality networks."

For more information on test equipment and suppliers, visit the Lightwave Buyer's Guide.