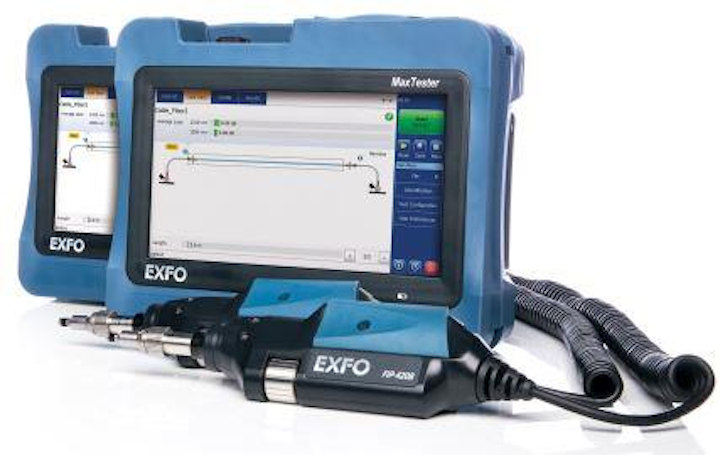 EXFO Inc. (NASDAQ: EXFO) (TSX: EXF) has unveiled the MaxTester 945 Telco OLTS (optical loss test set). A replacement for the company's FOT-930 instrument, the OLTS enables technicians to perform insertion loss (IL), optical return loss (ORL), and fiber length measurements at two wavelengths in 5 seconds via the EXFO's automated bidirectional FasTesT analysis technology.

The instrument is designed for easy use in FTTx and other telecommunications and outside plant network applications. For example, a step-by-step reference wizard and intelligent fault diagnosis capabilities guide users through the test process to reduce the risk of errors or negative loss, the latter of which EXFO points out is a common source of issues when testing low loss fibers. Re-testing capabilities reduce the number of steps from eight to three, the company adds. Taken together, these features enable technicians to perform test jobs in 2.5 hours that previously required as many as 8 hours, EXFO says.

The MAX-945 leverages EXFO's patent-pending one-cord reference method for automated bidirectional testing to enable testing of short links, such as drop fibers in FTTH networks, with precision and very low loss. It also offers a single-mode distance range of 200 km, as well as an on-board professional PDF reporting feature. The unit offers on-board diagnosis capabilities to deliver real-time information about the test cord health and pass/fail results according to preset or custom criteria.

The system comes in what EXFO describes as a "tablet-inspired" form factor with a 7-inch high-resolution touchscreen and Windows-like interface. It has integrated Wi-Fi and Bluetooth connectivity and supports EXFO Connect cloud-based test asset management. An on-board reporting feature enables technicians to document their work from the field without the need for post-processing back at the office.

The MaxTester 945 Telco OLTS is available today in various kits and configurations.

For related articles, visit the Test and Measurement Topic Center.

For more information on test equipment and suppliers, visit the Lightwave Buyer's Guide.