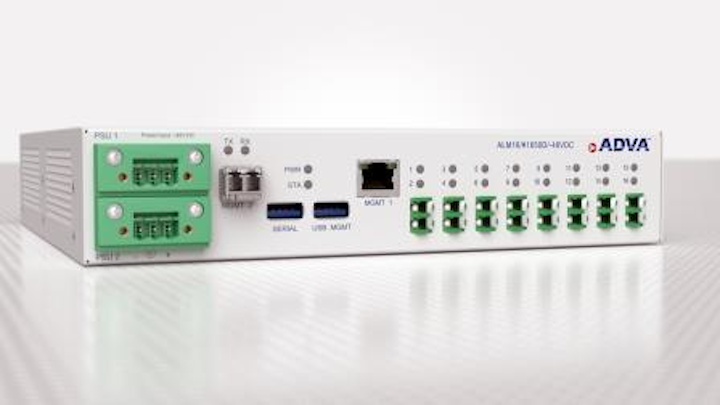 ADVA Optical Networking has relaunched its Advanced Link Monitoring (ALM) platform. The enhanced ADVA ALM system provides passive in-service monitoring of fiber links and should prove particularly useful for monitoring and troubleshooting dark fiber and other wholesale services connections, the company believes.
The new version of the ADVA ALM provides OTDR-like monitoring over greater distances and over a greater number of ports than the original version, unveiled in December 2014 (see "ADVA offers access link monitoring for dark fiber networks"). The system also has enhanced management capabilities, according to Stephan Rettenberger, vice president of marketing and investor relations at ADVA.
At the central office or headend, the ALM device injects a probe signal at 1625 nm into the fiber via a WDM coupler. The signal travels to the customer premises or other endpoint and is reflected back toward the origin point via a demarcation point device small enough to be integrated into a patch cable. The ALM system can detect the location of fiber breaks and related problems within 10 m and works over a distance of 160 km, Rettenberger said. Since it operates at 1625 nm, the probe signal does not interfere with traffic on the line.
The 1RU ALM central office/headend platform offers full SNMP management, GIS integration, and is compatible with ADVA's FSP Network Manager for FCAPS functions. It will monitor 16 fibers per 1RU platform.
The new version of the ALM is currently in customer trials, according to Rettenberger. Volume production should occur by the end of the year, he predicted.
For related articles, visit the Test and Measurement Topic Center.
For more information on test equipment and suppliers, visit the Lightwave Buyer's Guide.