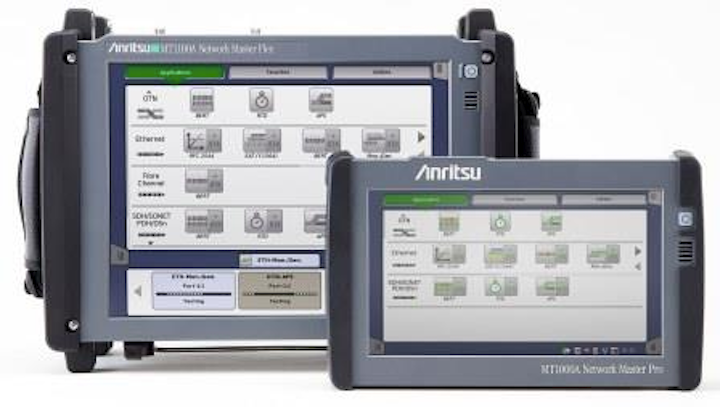 Anritsu Co. has added a One-Button Test capability to its Network Master Pro MT1000A and Network Master Flex MT1100A transport test platforms. Enabled via the company's new Scenario Edit Environment Kit (SEEK) MX100003A, the new feature aims to simplify and accelerate the end-to-end process of installing and maintaining high-speed core and metro networks.

The one-button test feature enables operators to implement their own test procedures, based on detailed test configuration files they can create on a PC. The files can contain contextual or graphical prompts field technician can use while completing multiple sequential tests with user-defined pass/fail thresholds. Once created, the file is loaded into the appropriate Network Master transport tester and saved to the Utilities tab.

To run the tests in the field, engineers and technicians connect the Network Master instrument to the cable, device, or network under test and press the user-created icon. The overall process saves time and ensures accurate and consistent results, Anritsu says.

Operators can create "single-file" test scripts, including multiple tests, such as electrical/fiber optical cable testing, BERT, RFC2544, and Y.1564, each with individual criteria so technicians know when each test is complete and thus can continue to the next test section. Settings flexibility enables technicians to input network details and change the configuration and pass/fail criteria while still being managed by the operator.

The One-Button Test system also supports creation of default test packages.

Both the Network Master Pro MT1000A and Network Master Flex MT1100A achieved Elite Score status in the 2016 Lightwave Innovation Reviews.

For related articles, visit the Test & Measurement Topic Center.

For more information on test equipment and suppliers, visit the Lightwave Buyer's Guide.