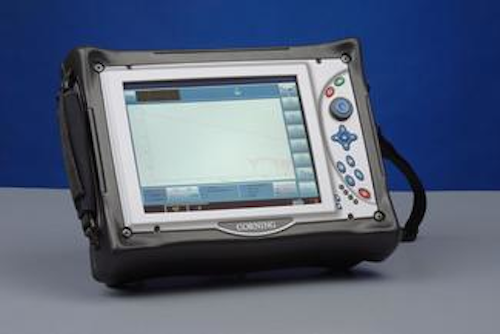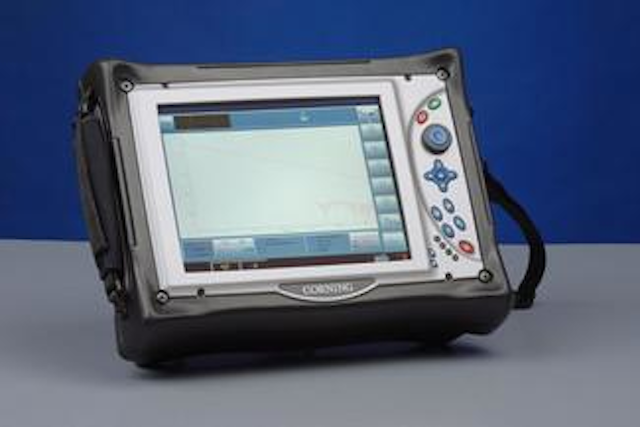 Model 500 Optical Multitester
25 August 2003 Hickory, NC Lightwave--Corning Cable Systems, a manufacturer of fiber-optic communications network infrastructure, introduces the Model 500 Optical Multitester, an testing platform designed to meet virtually all optical testing needs. The company is also announcing product enhancements to its access networks portfolio.
The optical multitester features test and measurement options including optical time-domain reflectometer (OTDR), connector inspection, chromatic and polarization mode dispersion, optical spectral analysis, and Gigabit Ethernet system testing. The testing platform is designed so the user can configure it to meet his or her specific testing needs with the addition of field-installable modules.
The OTDR application - the fastest in the industry with 60% to 80% of range in 15 to 30 sec - is designed to reduce the time needed to install, commission, and maintain fiber spans via high performance hardware and easy-to-use software. The Model 500 Optical Multitester is easily equipped with a light source and power meter for end-to-end loss testing, and a visual fault locator option enables the user to locate breaks at patch panels and identify specific optical fibers within a cable.
The Microsoft Windows-based optical multitester contains all the components found in a typical computer, including a hard drive, USB ports, CD-ROM or CD-R (writable), and an active color touch-screen display. The platform is available in three sizes, depending on the number of field-installable modules used.
The optical multitester is part of the company's Evolant Solutions for Evolving Networks, a program designed to deliver network migration, design-through-installation expertise, and tip-to-tip product and service offerings for access, data center, intelligent transportation system, metropolitan, long-haul and wireless applications.
Corning Cable Systems also announced product enhancements to its Evolant Solutions for Access Networks, which offers access-optimized fiber management and connectivity products for the central office or headend, local convergence and network access points, as well as a product portfolio of outside plant (OSP) cable.
The product enhancements include:
• The Network Access Point Closure is a low-cost aerial terminal optimized for optical access architectures. The terminal integrates couplers/splitters into the OSP and is easy to re-enter, allowing for incremental interconnection of subscribers' drop cables and a demonstrated increase in deployment and service velocity.
• The Local Convergence Cabinet (LCC), supporting interconnection of up to 192 fibers, provides state-of-the-art fiber management and interconnection between a carrier's feeder and distribution networks. By integrating self-contained coupler modules, the LCC also reduces initial deployment costs for fiber-to-the-X networks and enables carriers to spend money in more of a "pay-as-you-grow" approach.
• The SST Figure-8 Drop Cable is a cost-effective and craft friendly cable designed for subscriber drop and node feeder applications. The cable typically spans the last link in optical networks.
In addition to these product enhancements, Evolant Solutions for Access Networks features specialized service and support offerings, including training and rental services, a support hotline and newly introduced access modeling tools.
The Model 500 Optical Multitester and the Evolant Solutions for Access Networks' product enhancements will be on display in Corning's booth (#1008) at NFOEC 2003, Sept. 8-10, in Orlando, FL. Corning Cable Systems is wholly owned by Corning Inc.