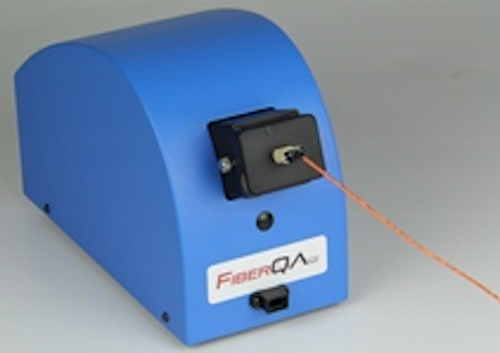 FiberQA LLC, an independent company derived from a joint venture that combines the cleaning technology of AEFOS and the inspection expertise of PVI Systems, has introduced the FastMT inspection and test system for cable assemblies. The FastMT can display simultaneously on a PC screen all of the fiber endfaces of an MT, MTP, or PRIZM fiber-optic connector. The move toward greater transmission speeds has increased the use of high-density fiber-optic cable assemblies for Ethernet, Fibre Channel, InfiniBand, and high-performance computing applications. Both developers and users face a growing challenge when either testing cable assemblies on the production floor or inspecting them for acceptance and troubleshooting after they arrive at the network location, say FiberQA CEO Jan Endresen and CTO/COO Doug Wilson. The FastMT addresses this challenge by offering the ability to quickly examine all of the endfaces in a multi-fiber connector and determine pass/fail status. The FastMT consists of a small inspection unit connected to a PC for display. The user inserts the connector into the inspection unit's Zero Insertion Force Fixture and the unit automatically adjusts the display to accommodate the number of fiber endfaces, using what Wilson describes as "an extremely fast and accurate, fully automated focus mechanism." The autofocus feature not only speeds the inspection process but improves accuracy as well, he adds.
The system can accommodate standard MTs with up to 72 endfaces; the FastMT can be customized for non-standard MTs, Wilson says, as long as the fiber region is no larger than that used by current 72-fiber MT connectors.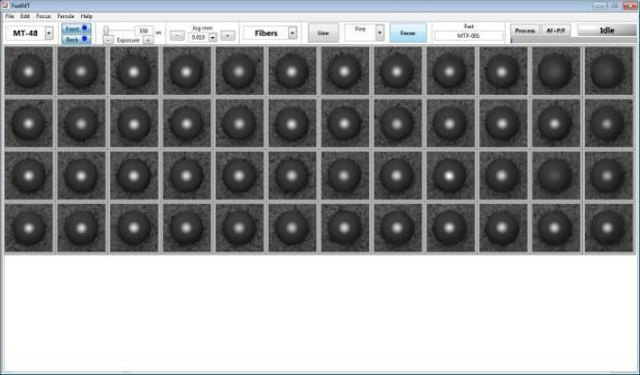 The FiberQA can display all of the endfaces of currently available MT connectors, including those with 72 fibers.
A 48-fiber connector is displayed here. (Source: FiberQA LLC)

In addition, a backlight capability enables accurate location of the lens regions of PRIZM connectors and helps the user perform continuity testing for jumper assemblies. The FastMT also enables the user to zoom in on individual endfaces for more thorough inspection and evaluation.

Use of the FastMT can speed the cable inspection and test process by a factor of 4 to 10, the FiberQA executives say users have reported.

The system supports both manual and automatic pass/fail determination; IPC/IEC certification of the automated feature is in process. In keeping with FiberQA's mission to combine automated testing and cleaning, an automatic cleaning feature for the FastMT is on the roadmap as well, Endresen and Wilson say.

The FastMT is currently shipping in two versions, both with autofocus. A unit with image capture and viewing for manual pass/fail determination lists for $12,500; a unit that includes automated pass/fail software lists for $15,000.
For more information on fiber inspection instruments and suppliers, visit the Lightwave Buyer's Guide.