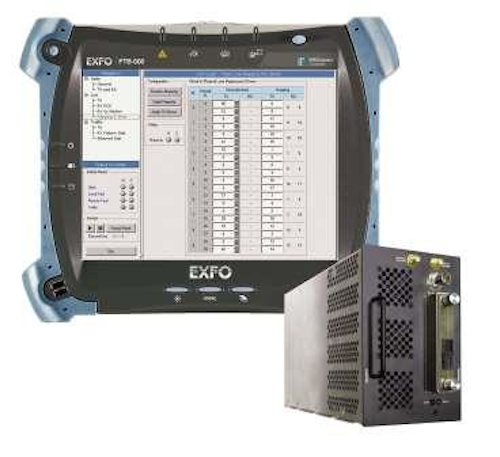 Test and measurement equipment vendor EXFO Inc. (NASDAQ: EXFO, TSX: EXF) has added new features to its FTB/IQS-85100G Packet Blazer series. The units now offer multi-stage ODU multiplexing as well as SONET/SDH client mappings over OTU4.

EXFO says that these improvements to the 40G/100G capabilities of the FTB/IQS-85100G platform help to speed testing and streamline network operations. The company describes the ability to accommodate multistage multiplexing schemes up to OTU4 is an essential function needed by the network equipment manufacturers when testing inter-carrier handoff between the network element muxponder cards.

In addition, the FTB/IQS-85100G now delivers SONET/SDH client mapping into Optical Transport Network (OTN) containers. Since SONET/SDH is used for its efficiency and granularity for low rates signals on the core and backbone network, this new feature enables faster validation of the lower speed Ethernet-based client interface, EXFO says.

"EXFO has been a leading provider of high-speed multiservice testing solutions and continues to be committed to providing the best 100G test solutions for our lab customers," said Claudio Mazzuca, vice-president of EXFO's transport and service assurance division. "Because our customers are under pressure to deliver their services faster and more reliably, we are more determined than ever to provide our customers with value-added test solutions to help them meet these challenges."

In related news, EXFO has added Fibre Channel test capabilities from 1X to 10X to the FTB/IQS-88100NGE, which it says is the only 10M to 100G test module on the market. In addition, Fibre Channel 16X is now available on the recently introduced FTB/IQS-8830NGE module.

For more information on test equipment and suppliers, visit the Lightwave Buyer's Guide.