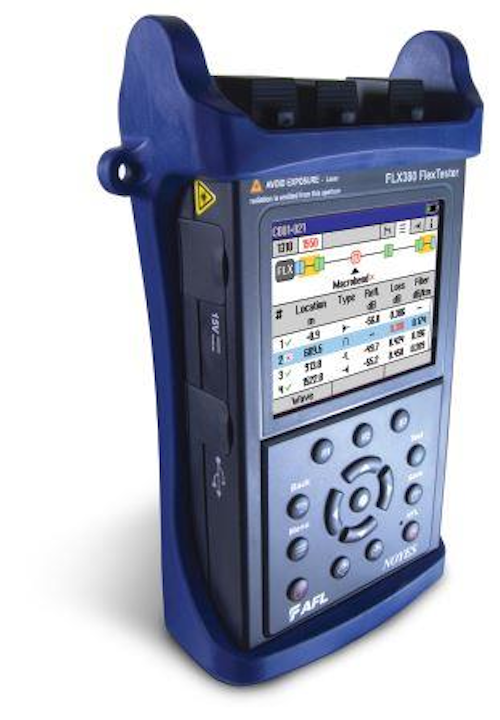 AFL has unveiled a Link Map with Pass/Fail option for its OFL280 and FLX380 FlexTester line of all-in-one optical test sets. The Link Map feature offers an icon-based display of the tested network that identifies, displays, and labels such network elements as fiber-optic connectors, splices, macro-bends, splitters, and fiber ends.

Link Map is displayed with the set's Event Table to visually associate network elements to key parameters including location, loss, and reflectance. User-adjustable pass/fail limits are then applied; failing events and measurements are highlighted to alert the technician to faults and their causes. Users can toggle between Trace and Link Map display at the touch of a button, AFL says.

"To meet bandwidth demand, networks are evolving from copper to fiber and wireless," explains Michael Scholten, senior product marketing manager for AFL. "Installation and maintenance technicians new to fiber need easy-to-operate test solutions which more clearly identify and locate problems in their optical networks. While FlexTesters have always been easy to use, Link Map with Pass/Fail makes understanding FlexTester OTDR results easier, ensuring faster, more accurate troubleshooting."

The new Link Map option is available as an upgrade for previously purchased FlexTesters, and may be ordered with any new FLX380 FlexTester3 or OFL280 FlexTester, including bundled FlexTester PRO and FlexTester Complete Kits. FlexTesters offer optical time domain reflectometer (OTDR), source, power meter, and visual fault locator capabilities in a rugged, handheld package weighing less than 2 lbs. Designed for field use, FlexTesters operate over 12 hours continuously from a full charge. Their indoor/outdoor displays can be easily viewed in direct sunlight and dimly lit interiors, AFL aserts.

For more information on field test instruments and suppliers, visit the Lightwave Buyer's Guide.