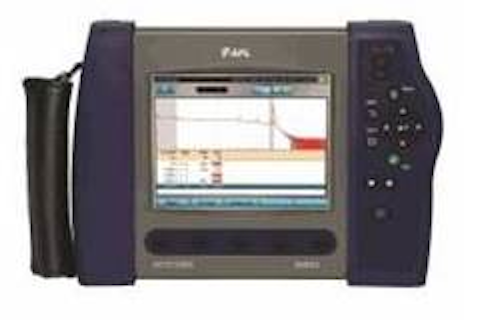 AFL has extended its M-series optical time domain reflectometers (OTDRs) with the M710-40. The new OTDR features the company's recently announced TruEvent Technology event analysis capabilities (see "AFL's TruEvent Technology analyzes OTDR events"). The company describes the M710-40 as its longest-reaching singlemode OTDR, covering fiber-optic network links in excess of 200 km. The instrument offers an integrated optical power meter and visual fault locator. It also integrates with Test Results Manager (TRM) Certification Reporting Software to create reports compliant to TIA/ISO guidelines. "Fiber networks can be long or short, have many connections and splices or very few. Combining high dynamic range performance and superior event analysis makes the M710-40 OTDR a powerful test solution for many applications," commented Lee Kellett, director of product marketing for AFL's test equipment division. Like other members to AFL's M-series, the M710-40 OTDR supports live fiber detection, pass/fail reporting, and front-panel check and inspection capability. The new OTDR also supports Full Auto, Expert (manual), and Real-Time OTDR test modes, multi-wavelength testing and visual inspection using the DFS1 Digital FiberScope. Users can store thousands of OTDR test results as standard .SOR files internally or on the supplied USB drive. Test results are transferable via USB to a computer for analyzing with the supplied Windows-compatible TRM software. AFL adds that "several" other M710 models with TruEvent Technology will be available by mid-year. For more information on test equipment and suppliers, visit the Lightwave Buyer's Guide.
Want to learn more about optical test innovation? Attend the Lightwave Optical Innovation Summit
The Lightwave Optical Innovation Summit will feature panels and presentations that will illuminate where optical innovation is required in carrier and enterprise/data center networks, what it should look like, and when it might appear. A wide range of experts from the user, technology development, academic, and analyst communities will offer their views on innovation in a variety of areas, including fiber-optic testing. Find out more about the Summit, which will be held in Austin, TX, July 14-16, at the Lightwave Optical Innovation Summit website.