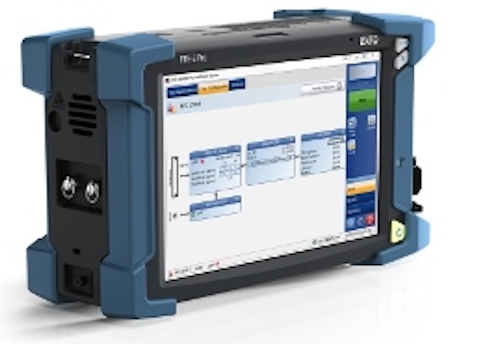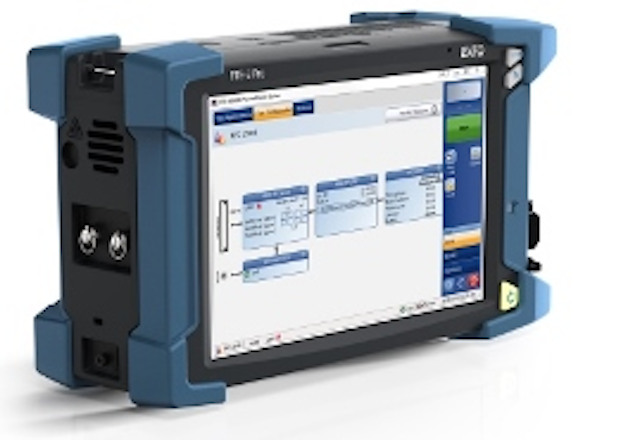 Test and measurement systems specialist EXFO Inc. (NASDAQ: EXFO, TSX: EXF) says its new module-based FTB-2 Pro Compact Platform is the smallest available high-speed, multi-technology, and optical testing platform. It supports two single-slot modules to enable, for example, a combination of Ethernet and optical time domain reflectometer (OTDR) test capabilities in the same unit.

The system also supports spectral and multi-layer testing. All in all, the platform offers the necessary power to enable maximum efficiency in field testing in a compact system, EXFO says. The FTB-2 Pro supports a range of module options, including:

The FTB-88100NGE, which covers Optical Transport Network (OTN), Ethernet and SONET/SDH technologies as well as CFP and CFP2 transceiver coverage, at rates from supports 10 Mbps to 100 Gbps.
The FTB-5240S and FTB-5240S-P, which offer spectrum analysis of polarization-multiplexed coherent 40G/100G DWDM wavelengths and intelligent in-band OSNR measurement for 40-Gbps and ROADM deployments.
The new FTB-8830NGE, a 10G multiservice test module for turn-up, circuit validation, and troubleshooting of Ethernet, SONET/SDH, OTN, Fibre Channel, and SyncE/1588 PTP services at up to 11.3 Gbps.
The FTB-7000 series of OTDRs, including the FTB-7200D, the FTB-7300E, and FTB-7600E. These modules offer singlemode and multimode configurations available at several wavelengths.

The FTB-2 Pro comes with a 10-inch high-resolution widescreen display and such connectivity options as Wi-Fi, Bluetooth, Gigabit Ethernet, and multiple USB ports. The use of the Microsoft Windows 8.1 Pro operating system enables the FTB-2 Pro o to run many third-party applications as well, EXFO says. The platform also is compatible with EXFO Connect, a cloud-hosted services that enables network operators to optimize field test workflow and address operational barriers via automated asset management and test data management.

"Today's high-speed networks demand testing solutions that are flexible, scalable, and powerful enough to handle mass high speed link deployments. The FTB-2 Pro highlights EXFO's unwavering commitment to delivering powerful, intelligent platforms that address the challenges facing operators today," said Etienne Gagnon EXFO's vice-president, Physical Layer and Wireless Division. "The FTB-2 Pro delivers the processing power, speed, ruggedness, and modularity of a high-end platform in a compact form factor. This new member of the FTB ecosystem allows field technicians to have access to the tools they need and sets a new standard in high-performance platforms."

For more information on field test equipment and suppliers, visit the Lightwave Buyer's Guide.