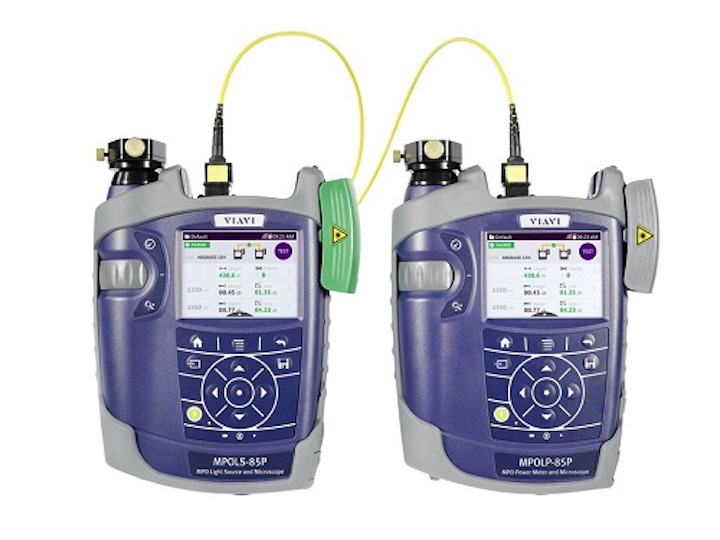 Viavi Solutions (NASDAQ: VIAV) has unveiled the SmartClass Fiber MPOLx optical loss test set, which targets Tier 1 (basic) certification test requirements for ribbon fiber cables with multi-fiber push on (MPO) fiber-optic connectors. The company says the instrument is the first optical loss test set that can perform all MPO Tier 1 (basic) test and certification requirements, including tests for length, optical loss, and polarity as well as inspect fiber end-face condition.
Viavi notes that while ribbon fiber with MPO connectors has been used in enterprise and data center networks for years, the migration to 40- and 100-Gbps transmission support has seen MPO connectivity extended to the end equipment to simplify deployment. This trend thus has created a requirement for Tier 1 (basic) certification of MPO connectivity from end to end, both to ensure network performance and to validate installation warranties.
The MPOLx is designed to enable contractors to deliver proof of certification ("Tier 1" in North America or "Basic" internationally) as well as to perform related test procedures via a single test platform. Use of the system can significantly improve test efficiency, Viavi says; the MPOLx can deliver test results in less than 6 seconds for all 12 fibers, according to the company. The test set provides users with full visibility and control from both the light source and power meter. The MPOLx also simplifies fiber inspection with automated pass/fail analysis for both ends of the MPO connection, Viavi concludes.
For related articles, visit the Test and Measurement Topic Center.
For more information on test instruments and suppliers, visit the Lightwave Buyer's Guide.