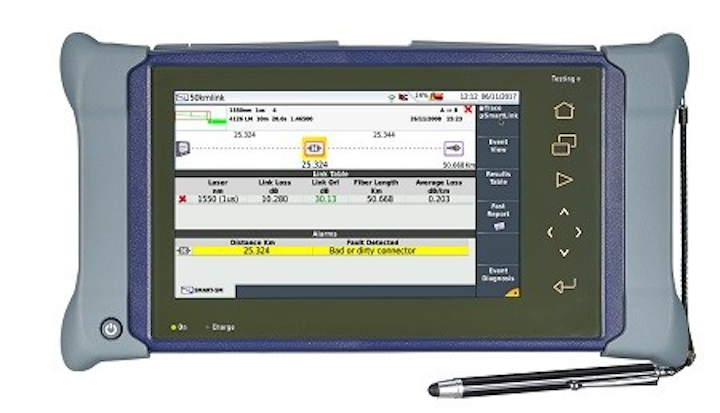 Viavi Solutions (NASDAQ: VIAV) has unveiled its new T-BERD/MTS-4000 V2 test platform, designed to support the complete range of Viavi fiber analysis tools, including optical spectrum analyzer (OSA), optical time domain reflectometer (OTDR), bidirectional insertion loss/optical return loss (ORL), light source, power meter, and fiber-optic connector inspection.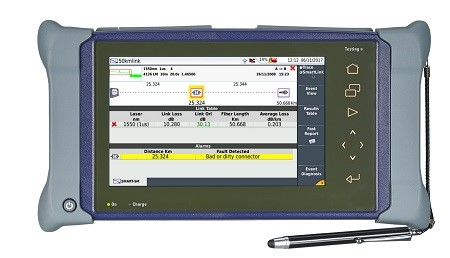 VIAVI introduces T-BERD/MTS-4000 V2 tester to support fiber analysis tools
The compact T-BERD/MTS-4000 V2 is designed for all fiber-optic network lifecycle phases, and provides high performance, upgrade potential, and scalability to engineers, technicians, installers, and contractors, says Viavi.
The dual-bay handheld platform with field replaceable modules features a high-visibility, multi-touch screen with permanent touch keys, and supports existing 4100 series modules and new MA2, MA3, and MP2 ODTR modules. According to Viavi, the T-BERD/MTS-4000 V2 has flexible Ethernet, WiFi, and Bluetooth connectivity, and cloud-based or on-board SOR and PDF report generation for straightforward certification.
With a three-year warranty, Viavi says this new field tester supports the entire network lifecycle through construction, activation, maintenance, and troubleshooting in applications such as FTTH/PON, CWDM and DWDM, distributed antenna system (DAS), centralized radio network (C-RAN), 5G, enterprise and data center (Tier 2 – OTDR and MPO switch), access and metro/core (10G, 40G, 100G – OTDR and C-OSA).
This announcement follows Viavi's release last March of what the company asserts was the industry's smallest dual-port, multi-protocol 100G handheld network tester at the time and the first field tester characterizing fiber with a single instrument, the MTS/T-BERD 5800-100G (see "Viavi Solutions T-BERD/MTS 5800-100G Handheld Network Tester").
For related articles, visit the Test and Measurement Topic Center.
For more information on test equipment and suppliers, visit the Lightwave Buyer's Guide.