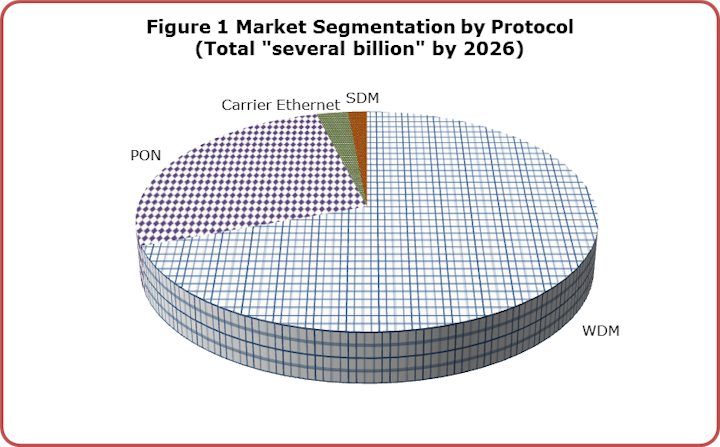 Engalco-Research
The amount of money service providers globally will spend on optical network technology – systems and fiber-optic cable combined – related to 5G mobile Xhaul will more than double between 2019 and 2026, according to Engalco-Research. The market research and analysis firm states in its new Optical Networking Equipment for 5G: Regional & Global Markets: 2019-2026 report that the optical network technology spend in support of 5G roll-outs should top $10 billion worldwide by the end of the forecast period. Fronthaul needs will account for 53.5% of this total in 2026, Engalco-Research adds.
Operators will spend more money each year on fiber cables than systems, Engalco-Research believes. Fiber-related capex should grow by an average of 9.6% annually through 2026, the report states. Nevertheless, spending on optical network systems will grow strongly during the forecast period, more than doubling in Engalco-Research's estimate.
Those systems-related outlays will go mainly to WDM, PON, and Carrier Ethernet gear, according to the report. Engalco-Research also foresees a role for space-division multiplexing (SDM) technology, albeit in niche applications. As the chart above illustrates, WDM systems will dominate spending, with outlays rising to exceed $3 billion in 2026 thanks to an annual growth rate of 16.7%.
Not surprisingly, Engalco-Research expects Asia will represent the most active geographic area in terms of optical technology spending for 5G. China will prove to be the largest market, the report forecasts, with Japan and South Korea also contributing strongly.
Engalco-Research's Optical Networking Equipment for 5G: Regional & Global Markets: 2019-2026 report offers seven-year forecasts of all the optical network technologies listed above, including total addressable market (TAM) values and shipments. The report analyzes the product and market strategies of the major players in the space and suggests strategies for optical networking and other firms looking to participate in the 5G fronthaul and backhaul market.
"The objectives leading up to this report were to identify the business opportunities for the optical networking market within fronthaul and backhaul for 5G," commented Terry Edwards, research director and senior executive at Engalco-Research. "An additional goal was to quantify these opportunities in both volume and value terms with seven-year forecasts covering each year over the range 2019-2026."
Additional information about the report is available directly from Terry Edwards.
For related articles, visit the Business Topic Center.
For more information on high-speed transmission systems and suppliers, visit the Lightwave Buyer's Guide.
To stay abreast of 5G Xhaul deployments, subscribe to Lightwave's Service Providers Newsletter.