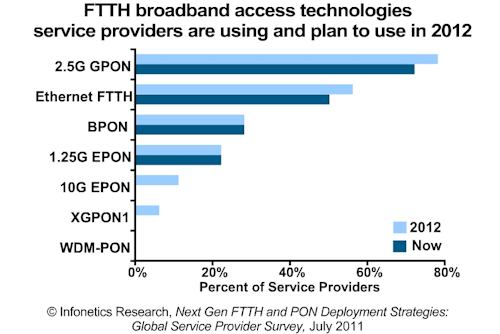 Carriers are interested in next-generation fiber to the home (FTTH) technology – but are in no hurry to deploy it at its current prices. Therefore, trials and deployments of 10G EPON, XG-PON1, and WDM-PON will be slow in coming, according to market research firm Infonetics Research.

Infonetics made these statements upon release of its 2011 Next Gen FTTH and PON Deployment Strategies: Global Service Provider Survey. The 26-page report analyzes results from interviews with incumbent and competitive operators in North America, EMEA, Asia-Pacific, and Central and Latin America about plans, drivers, pricing and product requirements for next-generation PON FTTH technologies. The survey also covers perceptions of FTTH PON manufacturers.

"Operators know they will have to keep pace with growing bandwidth demands. But for the most part, respondents will not replace existing FTTH technologies until the pricing of next-generation technologies -- including 10G EPON, XGPON1 (asymmetric 10G PON), and WDM-PON -- reaches parity with current equipment prices," notes Jeff Heynen, directing analyst for broadband access at Infonetics.
This does not mean that next-generation technologies, particularly 10G EPON, will not be deployed at all in the next year, as the accompanying chart shows.

Survey respondents cited increased bandwidth per subscriber as the main reason for interest in next-generation PON FTTH technologies. Delivery of IPTV and broadcast video also rated highly. Meanwhile, carriers listed VoIP, 802.11n, and HPNA capabilities as most desirable in ONTs. This response signals a continued shift away from basic bridge devices to integrated residential gateways, Infonetics asserts.

Calix was the vendor most often cited by carriers as one of the "top 3 FTTH vendors," according to the survey report.

For more information on FTTH equipment and suppliers, visit the Lightwave Buyers Guide.