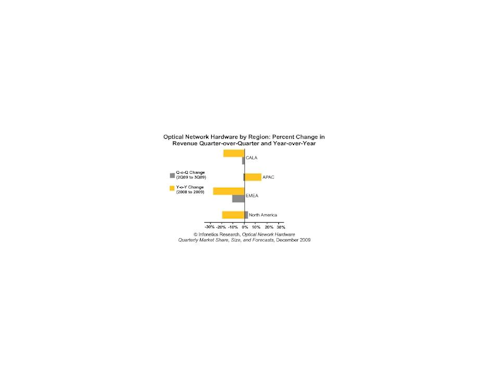 DECEMBER 7, 2009 -- Following a 7% increase in 2Q09, worldwide optical network hardware revenue decreased 2.5% in 3Q09, to $3.3 billion, according to the third quarter Optical Network Hardware report Infonetics Research has just completed. The North American market grew 4%, but declines in Asia, EMEA, and Central and Latin America offset these gains.

"While the overall optical network hardware market dipped in the third quarter, led by slight declines by heavy hitters Huawei and Alcatel-Lucent, the North American market inched up again, a trend we expect to continue," said Andrew Schmitt, directing analyst for optical at Infonetics. "The other major regions were down this quarter, although we expect a strong fourth quarter across the board. Asia is at risk for a liquidity-related 'Black Swan' event if the loose lending comes to an end, but the region is on track to overtake all others as the largest optical network hardware market in 2009 and well into the future, albeit at a slowing growth rate."

Added Schmitt, "On a related note, our prediction early this year that Huawei would seize the title of optical network equipment market share leader in 2009 is pretty much in the bag."

Other highlights of the report include:
Next generation WDM optical equipment revenue grew 7% sequentially in 3Q09, indicating that telecom carriers are allocating more money toward forward-looking infrastructure plans.
Alcatel-Lucent continues to lead the long-haul optical market. Huawei has increased its revenue market share by 80% over the last two years, while Alcatel-Lucent has dropped a point. Infinera passed Ericsson and Nortel in long-haul optical network equipment revenue in 3Q09.
40G port shipments were down sharply
Packet optical transport system (P-OTS) deployments are ramping rapidly in North America, and Fujitsu, Tellabs, Cisco, and Alcatel-Lucent are seeing excellent growth. The battle between P-OTS and IP-over-WDM technology will be an interesting one to watch, in Schmitt's view.

Infonetics' quarterly optical report tracks ADTRAN, ADVA Optical, Alcatel-Lucent, BTI, Ciena, Cisco, Corrigent, ECI, Ericsson, Fujitsu, Huawei, Infinera, NEC, Nokia Siemens Networks, Nortel, Sycamore, Tejas Networks, Tellabs, Transmode, Turin, ZTE, Xtera, and others.

The report provides worldwide and regional market share, market size, forecasts through 2013, and analysis for metro and long haul optical network equipment, including SONET/SDH (ADMs and terminals, MSPPs, and crossconnects), WDM (transport and ROADM), and POTS. The report tracks the number of ports and revenue per port for WDM and SONET/SDH products by speed (Ethernet, SONET/SDH/POS, WDM), from below OC-48/STM1 to 100G.

Visit Infonetics Research