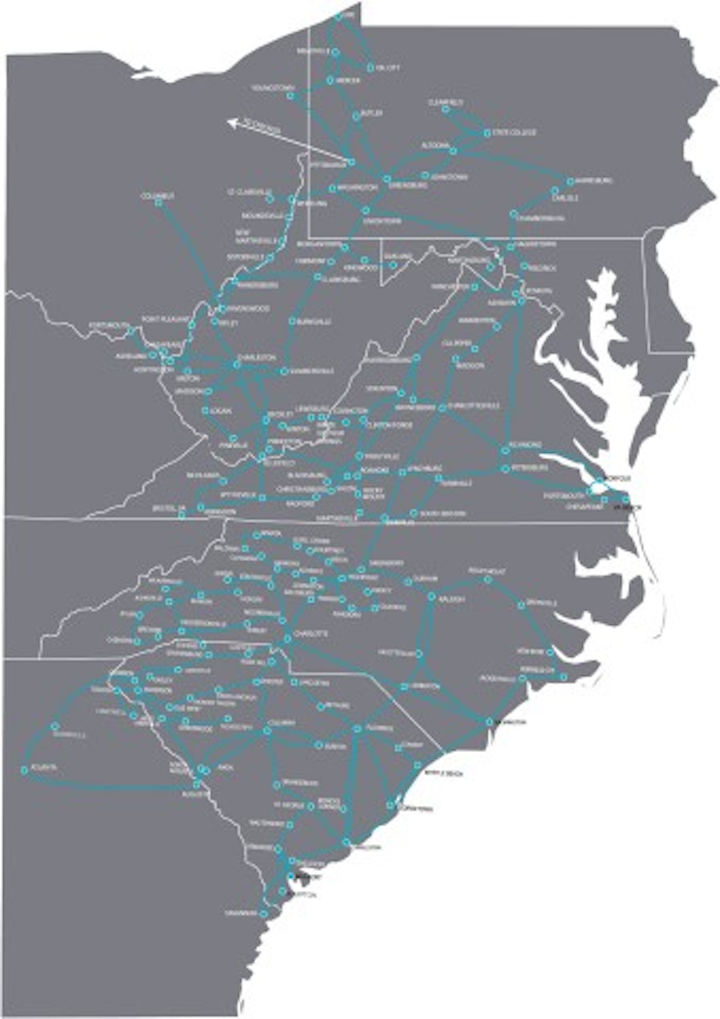 The combined Spirit and Lumos fiber map (Graphic: Business Wire)
Lumos Networks Corp. and Spirit Communications said that the EQT Infrastructure III fund's majority stake investment in Spirit has been completed, and Spirit will be combined with Lumos as a result of the transaction.
The Spirit and Lumos combination will create a super-regional fiber-optic network that extends from Pittsburgh to Atlanta. The highest concentration of revenue and fiber network will be in the high-growth markets of Virginia, North Carolina, and South Carolina, say Lumos and Spirit.
EQT signed a definitive agreement to invest in Spirit in August of 2017, and acquired the pure-play provider in November of 2017. EQT also acquired Lumos, which supplies fiber-optic network services in the U.S. Mid-Atlantic region, in 2017 (see "EQT to buy stake in fiber-based data services provider Spirit Communications").
Spirit and Lumos will jointly operate a nearly 21,000 fiber route mile network, and more than 1 million total fiber strand miles. With more than 9,000 on-net locations, the combined business will be composed of almost 4,500 on-net enterprise locations and over 4,500 unique contracted fiber-to-the-cell (FTTC) locations.
According to Lumos and Spirit, the combined entity delivers an array of Ethernet, MPLS, dark fiber, advanced voice, and cloud services to thousands of carrier, enterprise, data center, and government customers. Including 12 co-location and data centers, the entity connects 44 data centers total.
"In an industry where most combinations are focused on eliminating cost benefits, this business combination is born out of expectations for revenue growth," said Robert Keane, former Spirit CEO. "We now have twice the footprint to reach more of our customers' locations, and we expect to utilize both companies' product portfolios to cross-sell these services across the expansive combined enterprise base."
Spirit Communications president and CEO Robert Keane, and current chairman of the board of Spirit Brian Singleton will serve on the combined company's board of directors. Lumos president and CEO Timothy G. Biltz will serve as the CEO of the combined company.
For related articles, visit the Business Topic Center.
For more information on high-speed transmission systems and suppliers, visit the Lightwave Buyer's Guide.