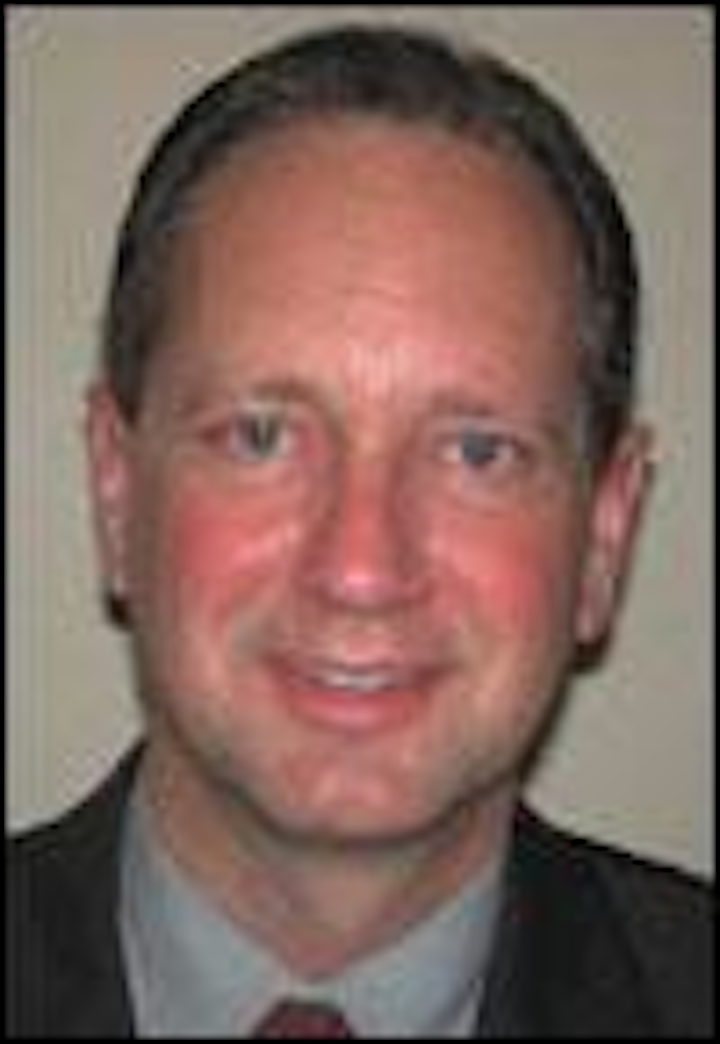 McGraw
John McGraw, former president and CEO of LightLogic Inc., which he sold to Intel Corp. one year ago, has been named chairman of semiconductor optical-amplifier products manufacturer Kamelian Ltd. Stressing the importance of "bringing the economics of the semiconductor industry to optical amplification," McGraw says, "low-cost amplification is critical for today's optical networks." Before joining LightLogic, McGraw was senior vice president and general manager of Raychem Corp. As Kamelian's chairman, he will maintain his base in Silicon Valley, though he plans to spend substantial time at the company's headquarters in Oxfordshire, UK. Acting chairman David Sibbald will continue to play an active role in the company as a non-executive director.
John Struhar, distinguished member of the technical staff and fiber-optic application engineer at OFS, is the new chair of the Fiber Optics LAN Section (FOLS) of the Telecommunications Industry Association (Arlington, VA). An active member of FOLS since its inception eight years ago, Struhar was called "a driving force" in the development and ultimate ratification of TIA/EIA-785, the 100Base-SX fiber standard for short-wavelength fast Ethernet. "Although the economy has caused all network planners to think carefully about any upgrades," notes Struhar, "optical fiber is an excellent choice for companies that are looking at the long-term costs of their networks, as fiber offers easy upgrades, low maintenance, and extremely high reliability. Initial installed costs are also coming close to parity with those of copper, as users turn to new technologies such as media converters or take advantage of new standards like TIA/EIA-785." Also selected by FOLS for one-year terms are section vice chair Robert Lopes of Micro Linear Corp., Communications Subcommittee chair Louise Bryant of OFS, Membership Subcommittee chair Cindy Montstream of Ortronics, and Standards Subcommittee chair Herb Congdon of AMP/Tyco Electronics.
Fred Rappaport, founder of Qusion Technologies and Trimac Networks, has resigned his post as Trimac's chairman to devote more time to Qusion. "For the past several months, Qusion has been time-consuming," explains Rappaport. "As Qusion continues to raise money and develop product and customer relationships, it is clear to me I must focus my time." Qusion recently announced the development of its first product, which the company claims is the world's first wide-bandwidth electro-absorption modulator using indium phosphide. Trimac, founded last fall, two years after Qusion, is said to be developing 10- and 40-Gbit/sec transceivers with up to 10 components in one module.
Rockwell Automation chairman and CEO Don H. Davis, Jr. has joined Ciena's board of directors. Davis has been with Rockwell for 17 years, previously serving as president, chief operating officer, and executive vice president. Before that, he held several executive positions with the Allen-Bradley Co. for 23 years until 1985, when it was acquired by Rockwell International. He also serves on the board of directors of Apogent Technologies and Illinois Tool Works.
Former vice president and group controller at JDS Uniphase (JDSU), James Coleman has been appointed chief financial officer at integrated optical components manufacturer Inplane Photonics Inc. Coleman was previously CFO at Epitaxx, where he also had manufacturing and operations responsibilities when the company (before its sale to JDSU) transitioned from startup to high-volume production. Also joining Inplane are John Kostibas as vice president of marketing and sales and Tek-Ming Shen as vice president of strategic product management. Kostibas previously held executive sales and marketing positions at Bookham Technology, Tellium, and NEC America. Shen was responsible for managing several product lines, including optical amplifiers, pumps lasers, and dispersion compensators at Lucent Technologies' Optical Networking Group, and he led the high-speed-laser team that developed directly modulated semiconductor lasers at Bell Labs.
Former Telcordia Technologies chief scientist Gee-Kung Chang has been named chief technology strategist at optical-component maker OpNext Inc. While at Telcordia, Chang focused on the development of optical label-switched router technologies for the next-generation Internet. Before that, he directed the local-exchange carrier system integration and testbed implementation project at Bellcore. A Telcordia Fellow and co-author of 55 patents and applications, Chang received Bellcore's President Award in 1994 for his pioneering work in WDM optical networking.
Dr. Everett S. McGinley is the new CEO of Axcel Photonics Inc., a manufacturer of high-power pump lasers. McGinley was previously president of Bandwidth Semiconductor, where he built the entire organization, recruiting the optical engineering, manufacturing, and management teams. He also managed the development of new business strategies focusing on Gigabit Ethernet and optical-networking components and was responsible for the development of three new products. Before that, he handled business development activities for Spire Corp., including optoelectronics. Axcel also named Evan C. Sanders vice president of sales, marketing, and business development. Sanders was previously sales vice president at CyOptics, opening the company's U.S. headquarters, and was sales and marketing vice president at Lasertron.
Resilient-packet-ring product developer Lantern Communications has called on Behrooz Parsay to be senior vice president of engineering and operations. With more than 20 years' experience in architecting and managing advanced-technology products as well as launching technology solutions in emerging markets, Parsay was previously senior vice president of engineering and operations at InLight Communications, senior vice president of engineering at Kestrel Solutions and DIVA Inc., and vice president of Ericsson Fiber Access's broadband unit.
Optical Ethernet equipment provider Atrica Inc., has tapped industry veteran Brian Nugent to be senior vice president of worldwide sales and service. Nugent was previously senior vice president of sales, customer service, and business development at LuxN and held senior sales positions at Cisco Systems, 3Com, and IBM. In addition, Bill Cadogan, general partner at St. Paul Venture Capital, and Ali Shadman, partner at JK&B Capital, both recent investors in Atrica, have joined the company's board of directors. Cadogan was previously chairman and CEO of ADC and general manager of business development at Intelsat and spent 15 years at AT&T in several sales and marketing positions. Shadman has held a variety of positions with Ameritech, including president of Ameritech New Media and Ameritech's vice president of corporate strategy, where he was directly involved in Americast, a joint venture with Walt Disney, GTE, BellSouth, and SNET, and led the negotiations for the merger between Ameritech and SBC Communications. He also held senior technology positions with MCI Telecommunications and Intelsat. "While we are extremely pleased with the amount of money raised [$75 million] in our recent round of funding," says Atrica president and CEO Vivek Ragavan, "we are even more enthused about the level of industry experience our new investors represent."