PhotonEx's 40-Gbit/sec system
Mar 1st, 2002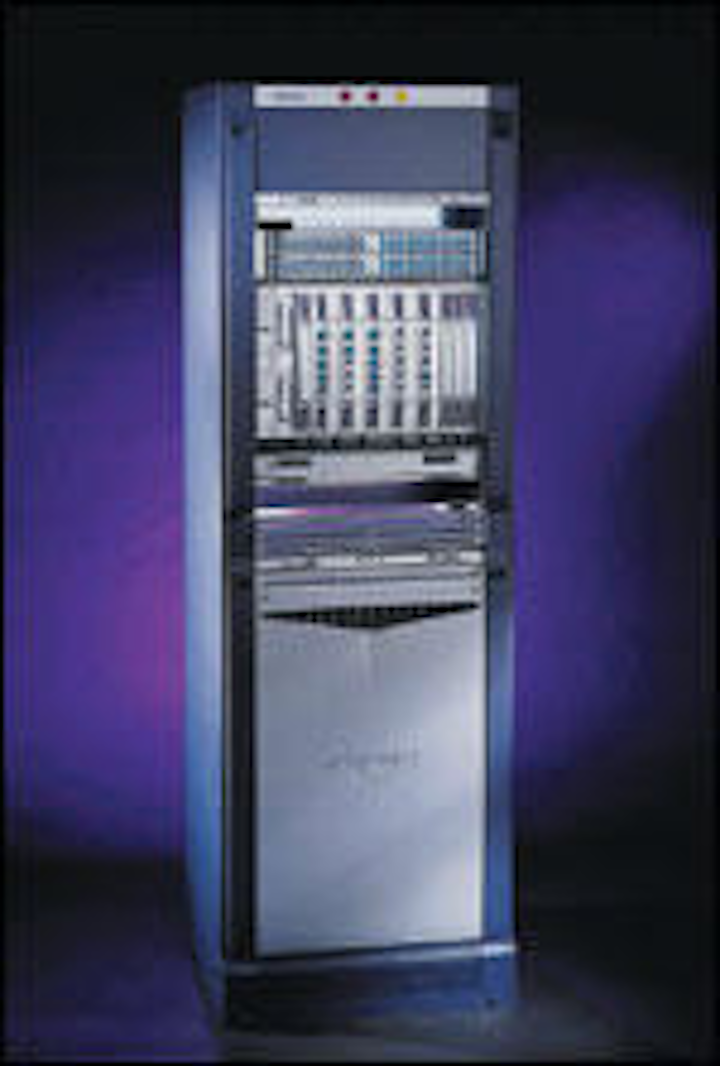 SYSTEMS
By MEGHAN FULLER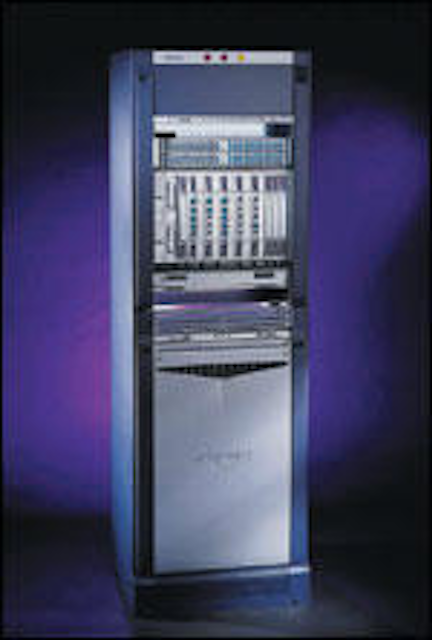 The PX-Ultra 4T core optical transport system supports 40-Gbit/sec wavelengths that deliver 3.2 Tbits of capacity across distances of thousands or hundreds of kilometers-all on existing fiber.
PhotonEx Corp. (Maynard, MA) is perhaps best known for its recent financing coup; the company closed its third round of funding, a $90-million endeavor, last October, bringing its total to $178 million, enough to remain operational through 2003 and into 2004. Now the company is ready to reveal what attracted these investments in the first place: a 40-Gbit/sec core optical transport system designed to overcome the limitations of today's systems while providing a migratory path to tomorrow's unpredictable network needs.

The folks at PhotonEx are quick to point out the difference between non-scalable, static wavelength-based services and the more flexible stream-oriented services their architecture will enable. Wavelength-based services are simply about information movement, they claim, whereas stream-based services involve service creation.

"The analogy that they use is that wavelength services are just like any other TDM service; they are effectively circuit-based services," explains Russ McGuire, chief strategy analyst at market researcher TeleChoice (Tulsa, OK). "What PhotonEx is trying to introduce is something that looks a lot more like packet-based services but at an optical level. They are much more flexible in terms of the way that you slice up the capacity and then also much more dynamic in terms of the provisioning of that capacity."
The first offering in PhotonEx's multistage development plan is the PX-Ultra 4T, a point-to-point transport system that supports 40-Gbit/sec line speeds and 3.2 Tbits of capacity, says Phil Francisco, PhotonEx's marketing vice president. It can stretch thousands of kilometers without the need for regeneration or signal conditioning. The PX-Ultra 4T also features standard industry interfaces for both SONET and SDH, making it globally deployable. It supports 2.5- and 10-Gbit/sec interfaces today and 40-Gbit/sec native rate and 10-Gigabit Ethernet in the future. Targeted at Tier-1 carriers and service providers, the PX-Ultra 4T is currently in field trials.
All of this begs several questions. First, is there enough growth in traffic to support 40-Gbit/sec transmission systems-and do they make economic sense today? Perhaps even more critical, is the technology itself robust enough for deployment?
According to McGuire, the answer to these questions is yes. "We've been looking pretty hard at the demand growth," he says, "and everything we see says that, yes, there are people who today could use 40-Gbit/sec technology and enjoy some economic benefit from it."
McGuire also believes the folks at PhotonEx have assembled an architecture that, in concept anyway, makes sense. They have used existing technology and off-the-shelf components. And they do it all over previously installed fiber.
"We don't depend on new fiber deployment to make 40 Gbits/sec work," asserts Francisco."We are operational across the predominant types of fiber in the network-SMF-28, Lucent's TrueWave, and Corning LEAF fibers."
At the moment, the company's most visible competitor is Nortel Networks, but that lead may be tenuous. While he admits that Nortel hasn't released enough information to make an accurate head-to-head comparison, McGuire asserts that "Nortel does seem to be lagging quite a bit behind PhotonEx in terms of timing."