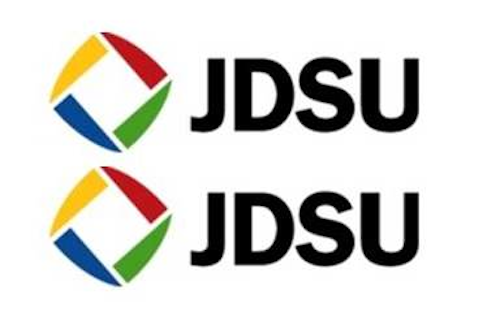 JDSU (NASDAQ: JDSU) announced after trading closed today its intention to split its optical components and test and measurement businesses into two publicly traded companies. The move would save approximately $50 million in combined expenses and allow the two business units greater flexibility, company management asserts. It also would provide shareholders with "clear investment opportunities in distinct growth markets."

The two companies would consist of JDSU's current Communications and Commercial Optical Products (CCOP) and Network and Service Enablement (NSE) business units, respectively. The latter would also include the company's optical security and performance products. JDSU expects to divide itself via a tax-free pro rata spinoff of CCOP to JDSU shareholders, with the division completed by the third calendar quarter of 2015.

The CCOP includes JDSU's optical communications components, modules, and subsystems operations, as well as its commercial lasers and 3-D sensing business. The group had FY14 revenues of $794.1 million, according to the company. Alan Lowe, CCOP's president since 2008 and executive vice president of JDSU, has been tagged as the CEO of the new company.

JDSU's current president and CEO, Thomas Waechter, will retain those titles as head of the NSE company. That entity will handle JDSU's test and measurement, service enablement offerings, and optical security and performance products. It will have a particular focus on software products for virtualized network and software-defined networking (SDN) requirements, according to JDSU. These operations combined for revenues of $949.5 million in fiscal 2014.

"Over the past five years, JDSU has invested heavily in innovation that is well aligned with the industry's best growth opportunities, including cloud networking, data center expansion, and software-defined networks," said Waechter via a JDSU press release. "These opportunities extend beyond the traditional telecom ecosystem and now include web services, over-the-top, enterprise, and other customers. We believe two fundamentally focused companies best position us to stay ahead of the accelerating pace of technology change and to compete even more effectively across the unique markets we serve today."

The company reiterated its guidance for the fiscal first quarter of 2015 ending September 27, 2014, of non-GAAP net revenue of $405 million to $425 million and non-GAAP earnings per share of $0.08 to $0.12. However it said it expects to see significant one-time charges between now and the completion of the separation. JDSU management expects cash expenditures to obtain the cost savings will run between $75 and $100 million.

The company promised further details during its Analyst Day September 11.
Update Sept. 11: Initial analyst reaction ahead of the webcast was mixed. RBC Capital raised its rating of JDSU to "Outperform," according to financial site Seeking Alpha; the company also raised JDSU's price target from $11 to $18. However, Simon Leopold of Raymond James kept his rating at "Market Perform," suggesting that while the move "makes sense," both resulting companies would still face market obstacles. At 11:34 AM EDT, JDSU's stock was trading at $13.49, up $1.39 (11.46%).

For more information on optical components and suppliers, visit the Lightwave Buyer's Guide.