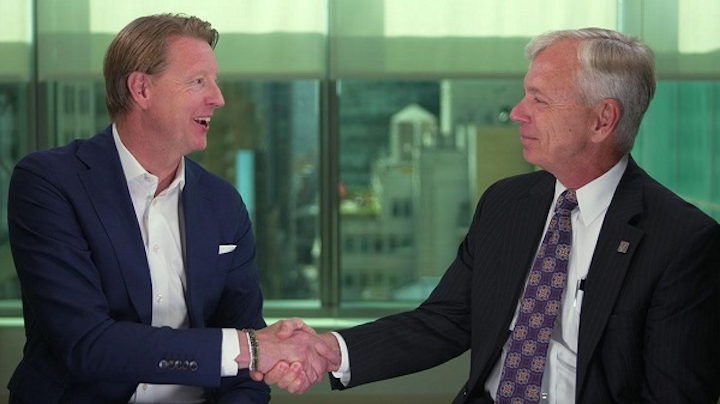 Verizon Communications Inc. (NYSE, NASDAQ:VZ) revealed today that Lowell McAdam will step down from the CEO position August 1 and intends to retire at the end of the year. Former Ericsson President CEO and current Verizon Executive Vice President and President of Global Networks and Chief Technology Officer Hans Vestberg will assume the CEO title on August 1. McAdam will become executive chairman of the board on that date to aid Vestberg with the transition to the latter's new role, then serve as non-executive chairman upon his retirement.
Shortly after announcing Vestberg's ascendancy, Verizon also announced that John Stratton, considered an alternative candidate for the CEO position in his role as executive vice president and president of global operations, has decided to retire as well. His retirement is effective immediately, although he will serve as a strategic advisor to the company. A replacement for Stratton has not been named.
In a video for Verizon employees, McAdam says the naming of Vestberg as CEO completes a two-year process on the part of the company's board to transition the company for the future. Vestberg, 52, arrived at Verizon in April 2017, nine months after being ousted from Ericsson after a series of disappointing quarters (see "Vestberg out as Ericsson CEO"). In his role as president of Global Networks and CTO, Vestberg has overseen the company's infrastructure expansion efforts, which include fiber to the premises (FTTP) deployments as well as the roll up to 5G mobile services delivery. The importance of 5G to the company may have swung sentiment in his favor.
"I feel it's really important to sort of let the new guy set the course for 5G," states McAdam to Vestberg in a video interview the two conducted for the benefit of Verizon employees. "And with your background, it's perfect for you to lead the business, because that's where you've lived for your last 28 years, I guess, when you've been with Ericsson."
"We are experiencing unprecedented changes in the way users interact in the digital world, and we are racing ahead to remain at the forefront of technology, connectivity, and mobility," said Vestberg via a Verizon press release. "I look forward to building on this momentum while continuing to focus on strengthening our customer relationships and driving growth and profitability throughout the business to deliver long-term value. Best of all, I get to do this alongside the greatest team in the business."
A 35-year veteran of the company, McAdam served as president and CEO of Verizon Wireless from 2007 to 2010. He was named COO of Verizon in 2010, CEO in 2011, and CEO and chairman of the board in 2012. McAdam has overseen several acquisitions, including XO Communications' fiber business in 2016 as well as AOL in 2015 and the operating business of Yahoo! in 2016. He also divested what the company now terms "non-strategic wireline operations" in several states to Frontier Communications. It also sold its cloud and managed services businesses to IBM last year, as well as 29 facilities that supported its data services business to Equinix.
Verizon has moved aggressively toward deployment of 5G, including significant purchases of fiber-optic cable (see "Verizon signs $1.05B fiber deal with Corning to support wireless broadband" and "Verizon to buy $300 million of fiber-optic cable from Prysmian").
Wall Street has barely blinked at the news. Verizon's stock was up $0.01 as of 2:13 PM EDT.
For related articles, visit the Business Topic Center.
For more information on FTTx technology and suppliers, visit the Lightwave Buyer's Guide.