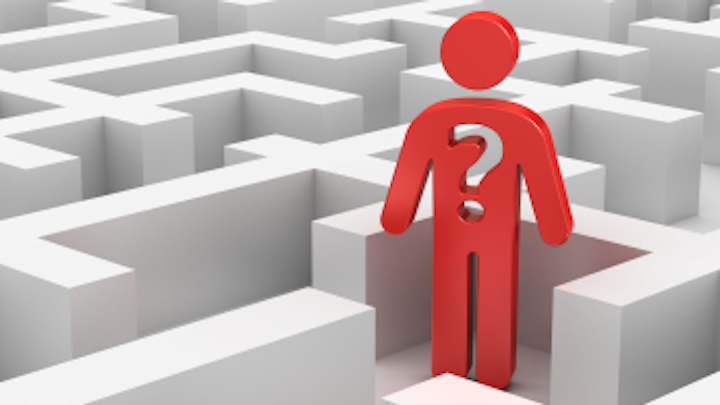 Okay, so if bandwidth demands continue to climb and optical network deployment flourishes worldwide, why do optical component and module vendors have so much trouble making money? LightCounting lists several reasons in its new "The State of the Optical Communications Industry Report." The list of potential solutions to low profitability among such optical technology suppliers isn't quite as concrete.
LightCounting points out that, as illustrated in the chart below, optical component and module vendors consistently rank at the bottom of the communications food chain when it comes to profit margin.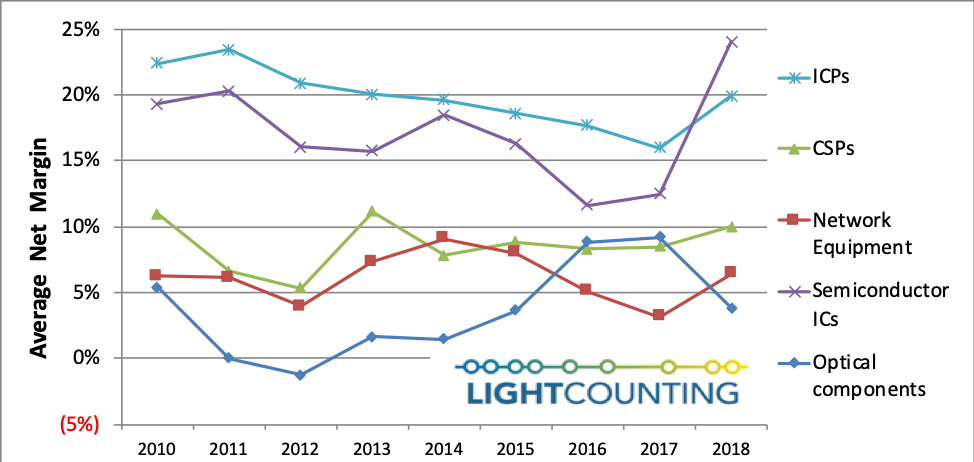 Sales-weighted average profitability across the industry supply chain.LightCountingIn fact, one of the few things that has proven to consistently bolster profit margins is component shortage, the reason that profit margin was marginally better in 2016 and 2017, the market research firm points out. Three elements endemic to the space combine to keep profits depressed, according to the report:
The industry's small size compared to its customers and the rest of the ecosystem. As the chart demonstrates, the total market share of component and module vendors pales in comparison to that of the other participants. That doesn't give them much weight to throw around when negotiating prices.
Another drag on prices is the difficulty in establishing competitive differentiation. Many products are based on standards or specifications established via multi-source agreements (MSAs). This factor accelerates the evolution toward commoditization.
Nevertheless, the cost to design, develop, and produce such products (or, better yet, products where differentiation can be established) is large. The rules of the market make achieving significant return on investment difficult.
So, what can optical component and module vendors do to find more profit? In addition to finding a differentiable niche, such companies have to be selective about the opportunities they wish to pursue. LightCounting points to Lumentum's recent decision to exit the datacom optical transceiver business as an example. Meanwhile, cutting costs becomes essential; LightCounting describes the outsourcing of manufacturing and other functions as a common approach, with the use of silicon photonics as another example of this trend. Finally, some companies (such as Lumentum and Finisar) are looking for new uses for existing laser technology, which explains the increasing interest among companies in supplying VCSELs in smartphone and automotive sensing applications. LightCounting points to the semiconductor industry, where the same core chip technology is used in multiple applications, as a model for this strategy.
LightCounting's "The State of the Optical Communications Industry Report" offers an analysis of the global communications industry. It details revenue growth and profitability across different levels of the industry supply chain from 2010 to 2018 and identifies challenges and opportunities for the future. The report also includes a review of the latest mergers and acquisitions and their impact. It also covers the success of Chinese equipment and component suppliers.
For related articles, visit the Business Topic Center.
For more information on optical components and suppliers, visit the Lightwave Buyer's Guide.